Fundraiser for Redlees Adventure Playground Trust
Related links
Redlees Adventure Playground Trust
Redlees Under 5s Centre
Redlees Park, Worton Road
Isleworth TW7 6DW
Chiswick Catholic Centre
2 Dukes Avenue
Chiswick
W4 2AE London
United Kingdom

Saturday, September 24, 2011 from 7:30 pm - 11:30 pm
Sign up for an email newsletter from:BrentfordTW8.comand ChiswickW4.com,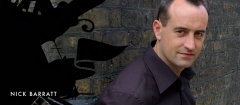 Nick Barratt - genealogist on the first four series of the BBC's Who Do You Think You Are? - will be entertaining a select audience with an inspirational talk to get guests started on the journey of tracing their family's roots wherever they originate, together with a question and answer session for those who've already begun.
Tickets are £15 and include a buffet prepared by the social enterprise, Reds Café. Drinks can be purchased at the bar.
Proceeds will help develop play and leisure opportunities for disabled children and young people at the Redlees Play Centre through the parent-led organisation Redlees Adventure Playground Trust.
Please note that registered charity Parents in Touch provides administrative support to Redlees Adventure Playground Trust and that payment will be processed through its Paypal account.
July 25, 2011