A triple bill of Victorian farces comes up trumps at the Orange Tree Theatre
Related links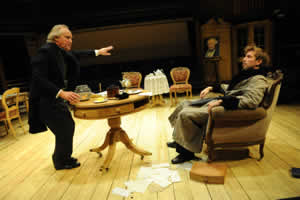 Clive Francis and Ed Bennett

Three Farces is on at the Orange Tree Theatre, Richmond until 25 June.
Book online at
www.orangetreetheatre.co.uk
or call 020 8940 3633.
Orange Tree Theatre, 1 Clarence Street, Richmond TW9 2SA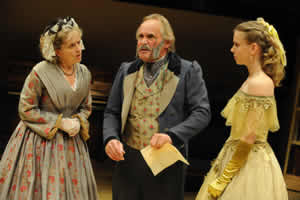 Natalie Ogle, Clive Francis and Jennifer Higham
Participate
Richmond's Orange Tree Theatre has a deserved track record for both expertly excavating neglected period pieces and triumphantly injecting fresh vim and vigour into the fine art of good farce.
So, Three Farces, the current revival of three nineteenth century vaudevillian one-act comedies, promises to be the perfect match of material and intimate theatre space, and in particular since Slasher & Crasher , A Most Unwarrantable Intrusion and Grimshaw, Bagshaw & Bradshaw were penned by John Maddison Morton (1811-1891).
Who, you may well ask? In fact, Morton was as hugely popular with mid-Victorian audiences as he is completely forgotten today, and that despite being championed by the influential critic Kenneth Tynan, who hailed him as "better than Feydeau."
Indeed, such was his enthusiasm for Morton, that, in 1968, Tynan persuaded the National Theatre to stage A Most Unwarrantable Intrusion alongside John Lennon's In His Own Write. Sadly for Tynan and a cast led by Derek Jacobi, the production failed to spark renewed interest in Morton. Once again the man described by a Victorian contemporary as "the funniest playwright that England ever had" slipped into obscurity.
Three Farces is the first opportunity since to revisit Morton – and there is certainly plenty of work to choose from, as he is known to have written at least 125 plays, the vast majority of which were short farces.
In a neat device, the evening's 'smorgasbord of farcical frolicking' is conducted by a Victorian-style Master of Ceremonies – never has an audience been asked to turn off phones so charmingly – who delivers musical ditties, chats to the punters during the intervals and is suitably solicitous about the quality of the Orange Tree's ice creams.
Having been introduced to the players, then it's onto the entertainment: Slasher & Crasher follows the fortunes of two cowardly suitors who must prove worthy of their impending nuptials in a duel; A Most Unwarrantable Intrusion reveals what happens when a husband's much anticipated day of happy solitude is sabotaged by an apparently insane intruder; and in Grimshaw, Bagshaw & Bradshaw a working man's lodgings are invaded by a series of strangers on the run.
All the classic elements of farce are present and correct: plots that are mini-masterpieces of convoluted twists and turns with improbable encounters, mistaken identities and cross-purposes conversations and casts featuring a rich mix of thwarted lovers, pompous uncles, fainting ladies, even a jam-loving suitor.
While Slasher & Crasher builds up a fine head of comic steam culminating in some deliciously dexterous swordplay, Grimshaw, Bagshaw & Bradshaw doesn't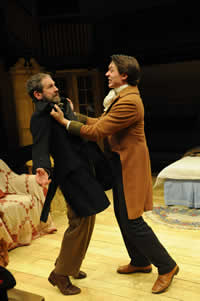 quite ignite from an equally intriguing set-up. The stand-out piece, however, is A Most Unwarrantable Intrusion . A funny, cleverly constructed absurdist flight of fancy complete with false ending, it could have come straight from the surreal scripts of the Goons, the Goodies or Monty Python – and stands comparison with the best of them.
Wonderfully led by master farceur Clive Francis, the six multi-tasking cast members display the requisite precision physical timing and infectious joie de vivre – and are clearly having great fun themselves – and director Henry Bell keeps the action fizzing along.
Whether or not John Maddison Morton disappears from view again, these comic capers thoroughly deserve to have been dragged from the theatrical vaults and given such an enjoyable airing. The audience headed for home still chuckling.


Stuart Fox and David Oakes
Neil McKelvie
June 14, 2011