Photos from the seventh London Mela at Gunnersbury Park
The sun was shining, the music lively and the food enticing. All day long, crowds flocked to Gunnersbury Park, an ideal venue for one of Europe's largest outdoor Asian festivals.
Gunnersbury is actually the perfect space for any large community gathering.
There was plenty on offer for everyone at this family-friendly London Mela, with seven zones of urban, classical and experimental music, DJs, dance, outdoor arts, comedy, exhibitions, children's play area and of course food.
Here are a few images from the day - please send in any of your own photos.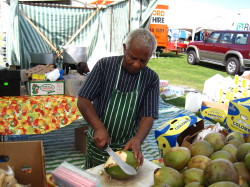 Preparing some refreshing coconut milk
Last year 70,000 people attended, but the wonderful weather today (Sunday 16th August) is bound to have attracted even more.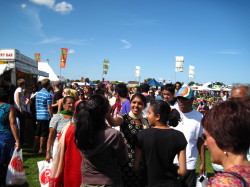 Mela = 'to meet'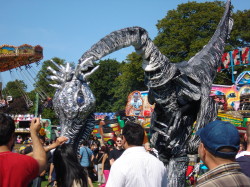 Visitors were entertained by a variety of theatrical experiences throughout the day, including stilt-walking dinosaurs Saurus by Close Act.
The Mela is now firmly established in West London but the future of Gunnersbury Park itself is currently under review - make sure you have your say.

Annemarie Flanagan
editor@ealingtoday.co.uk
Did you go? What did you think? Comment on this story on the forum
August 16, 2009