A Talk By Julie Smith from the National Trust Tonight at Gunnersbury Park Museum
29 November 2010 in the Museum, refreshments from 7.00, talk 7.30
With the help of one of our members, who works for the National Trust, we have been able to arrange an unusual talk, based on the personal experience of the manager of a National Trust house, garden and grounds.
The speaker will be Julie Smith, who joined the National Trust five and a half years ago as Property Manager for Upton House near Banbury. Julie went to the Trust from Fired Earth where she had become Logistics and Business Excellence Director in 2002. Prior to that she worked for Marks and Spencer for 20 years where she held a variety of management roles, including 8 years in their Baker Street Head Office, responsible for the management of £1bn of store costs, and as Head of Retail Operations for a portfolio of stores with sales totalling £150m.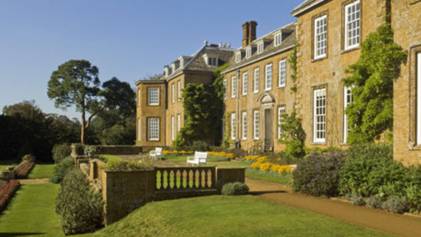 Upton dates from the 1690s but was refurbished in the 1930s by
the Bearsted family whose wealth came from the Shell Oil Co.
For several years Upton House and Gardens had been in decline. Julie was under pressure to tackle costs when she arrived, as the property was on course to deliver a full year deficit of almost £200,000. Falling visitor numbers and increasing financial deficits over a number of years had led to low investment which in turn led to low staff and volunteer morale. In her time at Upton House she has increased visitor numbers by 55%, improved the financial result seven-fold and produced a surplus for the first time in over 20 years.
Julie and her team have recently completed a £1m building and restoration programme, including the conversion of a 1930s squash court into an exhibition/ interpretation area and conference centre. Upton House was also one of the first properties in the National Trust to embark on the controversial challenge of 'bringing the property to life' – moving the property from being a traditional art gallery/museum into one which allows visitors to feel the atmosphere of a 1930s country house weekend party, and to learn about the people who lived and worked in the house in its heyday.
Hear how Julie managed to turn the property from a spiralling decline to a good news story and discover the lessons for Gunnersbury Park.
November 29, 2010