I Hear You Can Get Into Kew Gardens Completely Free
As an amazing year for London draws to a close, and in the spirit of celebration and festivity, Kew Gardens is offering an extraordinary gift to visitors: free entry for 12 whole days during Christmas!

Simply book your tickets online for free entry during the 12 days of Christmas - 22 December 2012 to 4 January 2013. Online booking opens on 17 December 2012 (www.kew.org).

There are festive delights galore this winter at Kew, so no one needs to stay cooped up indoors watching re runs of Father Ted! Walk off the mince pies with our enchanting winter tree tours, which explore Kew's beautiful and diverse collection of evergreens and conifers. Bring the kids to meet Santa in his grotto, and then from Boxing Day onwards they can enjoy magical storytelling sessions featuring shadow puppetry. Take a ride on our vintage carousel and then warm up in the Orangery with our delicious seasonal menu, where you can get into the festive spirit with Christmas carols performed by local choirs. Finally, top off a perfect day with a spot of retail therapy at Victoria Plaza, where you can pick up a bargain from 21 December in our up to 50% off sale!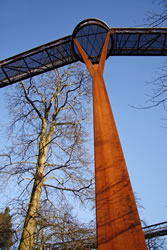 During your visit make sure to catch the acclaimed David Nash: A Natural Gallery exhibition. See his spectacular sculptures nestling in Kew's wonderful winter landscape. Looking to escape the cold? Then check out his indoor works in the Temperate House, Nash Conservatory, and Shirley Sherwood Gallery of Botanical Art.

Be sure to stop by the Winter Garden, where you can enjoy the heady scents of witch hazels and take a look inside the 18th-century Ice-House. Nearby in the Rock Garden, a wide range of delicate snow drops brave the chilly weather. The frost laced Grass Garden also looks spectacular on a crisp, clear winter's day. See Holly Walk burst into life, with red berries adorning this historic collection of trees, some of which are over 130 years old.

No visit would be complete without climbing to the top of the Treetop Walkway to enjoy sweeping views across the frosty Gardens and London's stunning skyline.

Terms and conditions:
1. Offer redeemable by booking a free ticket prior to visit at kew.org
2. Tickets valid between 22 December 2012 and 4 January 2013
3. 9,000 free tickets available each day the Gardens are open.
4. Kew Gardens are closed on 24 and 25 December
5. For full terms and conditions, visit www.kew.org


December 14, 2012