'…Diesel House Heats Up the Arts Scene…'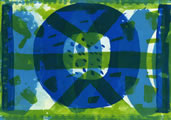 Related Links
Brentford's influential artists collective Diesel House Studios has now completed its Summer Show. However the work of the group of artists based at Brentford's Steam Museum goes on.
The project was the brainchild of painter and sculptor Elizabeth Rollins-Scott. Diesel House Studios has provided affordable studio and gallery space for its eight resident artists and around twenty other associate artists since its opening in February 2001. Diesel House has recently branched into the sourcing of artworks for corporate clients and private individuals and accepts commissions for specific pieces.
For those people looking for something truly exclusive, Diesel House can arrange with most of the artists, specific commissions for artworks made to order to suit any taste and budget. Contact details are available on the Diesel House website.
June 27 2004