This year it's just over t'border in Ealing!
Related Links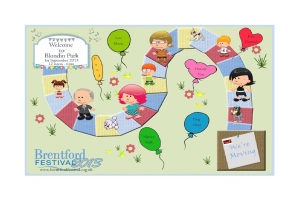 Participate
Comment on this story on the forum
Plans for this year's Brentford Festival are well underway.
On Sunday September 1st the gates of their brand new location – Blondin Park (in between Northfield & Boston Manor tube stations) will open at 12.00 for a family day out.
There will be attractions for children including pony rides and a fairground, shopping – scores of stalls selling arts and crafts, local, national and international charities will be present to publicise their campaigns and raise funding.
When you get peckish there will be food from around the world, and when you're thirsty there's a real ale tent and a Pimms tent too. As ever there will be lots of entertainment including the cream of local music and community acts.
It is an event run entirely by volunteers. If you can spare an hour or two (or longer of course) in the run up, or just on the day itself the team would love to hear from you. There are still a handful of stalls left too if you fancy one. So if you would like to help – or volunteer to help you can email info@brentfordfestival.org.uk or via their Facebook page or @Brentfordfestival on Twitter
24th July 2013