Played in Brentford & Chiswick: an illustrated talk by Simon Inglis
The next meeting of the Brentford & Chiswick Local History Society continues on Monday 20th April at 7.30pm.
Played in Brentford & Chiswick an illustrated talk by Simon Inglis, highlighting the rich sporting heritage of our part of London. Simon is the author of Played in London: Charting the Heritage of a City at Play, part of the English Heritage series, Played in Britain. Copies of this handsome book will be on sale on the night at a special price of £20.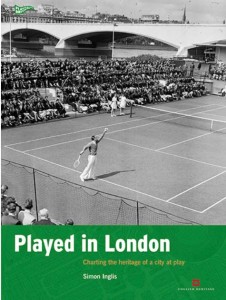 Monday 18 May, 7.30pm - Annual General Meeting Following the business meeting, James Wisdom will present a short illustrated talk, How to "Read" a Historic Town. This will show how buildings and the landscape are historical sources as much as documents and images, and will provide some background preparation for the summer outing. Journal 24 will be issued at the meeting, and afterwards posted to those members unable to attend.
The Society's talks take place at the Chiswick Memorial Club, Bourne Place, Chiswick W4. Please note that the Club does not open until 7pm.

April 15, 2015