Change the life of a deaf person this Christmas
Associated Articles
Participate:
Sign up for our weekly newsletter:
Would you be interested in holding a "Santa Paws" event for Hearing Dogs for Deaf People? You can help us to change the life of a deaf person this Christmas by raising money at your festive gathering – big or small, from mince pies and sherry after church to a cake sale at school or the office, to a formal dinner "Come Dine with Me" style, you can be as creative as you like – all we ask is that at this gathering vital funds for Hearing Dogs are raised.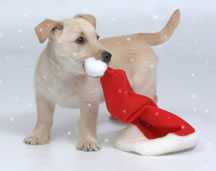 Community Fundraising Manager, Sue Pellow said, "Santa Paws is our latest fundraising initiative – we're asking people to raise money at their festive gathering this Christmas to help us to change the lives of more deaf people by providing them with a hearing dog. There are loads of festive fundraising ideas – whether you're asking for a donation in return for a mince pie and a glass of mulled wine, holding a raffle at your office party or playing a game of pin the nose on Rudolph, we'd be delighted to hear from you and help you with your fundraising."
Give the gift of independence, confidence and companionship this Christmas by raising money at your festive gathering to help create a life changing partnership between a hearing dog and deaf person.
Hearing Dogs for Deaf People receives no government funding and relies on the generosity of its supporters and volunteers to continue helping deaf people.
Hearing Dogs for Deaf People is a registered charity that trains dogs to alert deaf people to household sounds and danger signals such as the doorbell, telephone and smoke alarm – providing life-changing independence and confidence. Dogs are donated for training by breeders and members of the public and when possible they are selected from rescue centres. The Charity also has its own breeding scheme. Hearing Dogs provides a national service and no charge is made to recipients. Since its inception in 1982, Hearing Dogs for Deaf People has placed more than 1600 hearing dogs.
If you would like a fundraising pack containing all the materials you'll need to organise a Santa Paws, call Sue Pellow on 01323 508932 or email
November 2, 2011