Hard hitting campaign aimed at teen texting generation
Related Links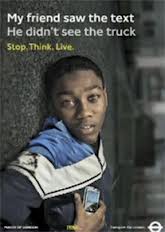 Participate
Comment on this story on the forum
Nine out of ten teenagers have seen their peers using a mobile phone while crossing the road according to the latest research from Transport for London (TfL). The behaviour, identified by teenagers themselves is one in a series of distractions shown in TfL's latest teen road safety 'Stop Think! Live' campaign.
The campaign is part of TfL's ongoing road safety work to reduce the number of people killed and injured on London's roads, which also includes targeted information for motorists to ensure they take care and watch out for other road users. In addition to this, TfL continues to implement engineering measures and work with the police to enforce speed limits and driver behaviour to improve the safety of our roads.
A poll of London teenagers, specially commissioned to understand danger caused by distraction on London's roads, was carried out exclusively on Facebook. Eight out of ten teens answering the anonymous poll from October 2012 said they had seen other teens step into the road without looking.
Alongside mobile phones and stepping into the road without looking, a third distraction shown in the campaign is listening to an mp3 player. The posters show the stark consequences of being involved in a collision while crossing the road. Bodies lying still on tarmac carry straplines that flag up different types of distraction, 'He saw the text he didn't see the car' 'She saw the bus she didn't see the car'.
The messages will be placed across the capital in locations that teens regularly pass such as bus shelters and phone boxes. In additional to traditional media, video bloggers will use their unique 'vlogs' to spread the message to their young followers via social media.
Latest figures, published by TfL earlier this year, reveal that road casualties among teenagers in the capital have fallen by two thirds over the past 10 years. Despite this 236 teenagers were killed or seriously injured on London's.
roads in 2011.
Ben Plowden Director of Planning, TfL Surface Transport said:
"We are committed to reducing road casualties in the capital. Despite the continuing fall in the number of teenagers killed or seriously injured on the road, protecting London's young people by improving the safety of London's roads remains a key priority. The feedback from this Facebook poll confirms that there is still work to be done."
2nd April 2013