But campaigners vow to continue the fight against local A&E closures
West Middlesex Hospital is to expand its Accident & Emergency and Maternity units under new plans announced by NHS chiefs to upgrade it to a major hospital.
The Joint Committee of Primary Care Trusts announced the changes this week (Feb 19) which will see four A&E departments closed in north-west London, despite fierce local opposition. Charing Cross Hospital, Hammersmith, Central Middlesex and Ealing Hospitals will now have 'urgent care centres' to deal with less serious incidents. Patients with urgent or life-threatening injuries will have to travel further for emergency care.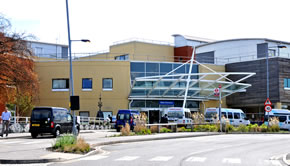 West Middlesex University Hospital
Save Our Hospitals Campaigners have vowed to fight on against the changes and campaigners in Ealing have suggested they may seek a judicial review.
The decision on the future of NHS Services affects almost 2 million people living in north-west London.
West Middlesex Hospital said they were "delighted" with the announcement that they were to become a Major Hospital and said it was " great news for our local community".
"As a Major Hospital we can look forward to significant investments in our facilities and staffing, expanding a number of our services including accident and emergency and our award winning maternity service.
"This is good news for our long term future and strengthens our position regarding becoming a Foundation Trust. In order to support us with this we are currently in the process of deciding which trust we will partner with in the future and expect to announce our decision on this at the end of this month."
The Committee which agreed with all the recommendations put forward by the 'Shaping a healthier future' programme, said future plans would mean:
• Investing over £190m more in out-of-hospital care to improve community facilities and the care provided by GPs and others. Most of these improvements will be put in place before any major changes to local hospitals are made.
• The five major acute hospitals with a 24/7 A&E and Urgent Care Centre will be: Chelsea and Westminster; Hillingdon; Northwick Park; St Mary's; and West Middlesex.
• Central Middlesex Hospital will be developed in line with the proposed local and elective hospital models of care, and will also include a 24/7 Urgent Care Centre.
• Hammersmith Hospital will be developed in line with the proposed local and specialist hospital models of care, and will include a 24/7 Urgent Care Centre.
• Both Ealing and Charing Cross Hospitals will be developed in line with the proposed local hospital model of care, and will each include a 24/7 Urgent Care Centre. The JCPCT also recommended that further proposals for these two hospitals are developed in future by the relevant CCGs.
"The 'Shaping a healthier future' programme was established to address a number of challenges being faced by the NHS in NW London, including the demands of an increasing, ageing population. There are more people with long term conditions, and unacceptable variations in the quality of care, evidenced by higher mortality rates for patients treated in hospital at night or during the weekend," said a statement.
The proposals will take 3-5 years to implement and the JCPCT said this would ensure that improvements in out-of-hospital care were in place before major changes to hospital services were implemented.
The NHS's decision will be reviewed by Ealing Council's health overview and scrutiny committee on 4 March. Scrutiny councillors might then vote to refer the plans to the secretary of state for health who would then order an independent panel investigation before making a decision.

Dr Onkar Sahota, London Assembly Member for Ealing and Hillingdon and Chair of the Save Our Hospitals Ealing campaign said: "This decision is not a surprise, but it is a travesty. The people who use these critical health services have had their opinion completely ignored. With A&E admissions consistently rising by about 3% a year it is ridiculous to start closing major hospitals in places with dense populations such as Ealing, which will be reduced to little more than a polyclinic.
"We will continue to fight to save our hospital and will pursue every available option, including referring this to the Independent Reconfiguration Panel and Judicial Review."
Save Our Hospitals campaigners have vowed to fight on and say they now seeking a judicial review of the plans put forward by NHS NorthWest London.
This must be taken up by a local authority, but after campaigning for many months against the plans, Hammersmith and Fulham Council has performed an apparent U-turn and struck a deal with NHS North West London, so will not be taking further action.
A rally was held by campaigners against the hospital closures last weekend in Hammersmith where H&F Council was criticised for its actions. The council's response can be read below.
http://www.neighbournet.com/server/common/hfnhsclosures036.htm
February 20, 2013