Massive search underway around the canal area today
250 police officers and eight police horses were out in force today (Saturday 27th September) continuing the search for missing schoolgirl Alice Gross.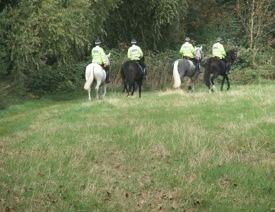 Officer John Hughes who was coordinating today's search told me "We use horses sometimes as they give a different viewpoint because of the height."
The 250 officers were spread over a number of areas but I joined the mounted officers and around 20 on foot as they searched in Elthorne Park – the bottom end adjacent to the canal.
Officer Hughes confirmed that in the search they have also deployed sniffer dogs not only on the ground but also specially trained ones that can detect things in water.
He also explained that all the searches are meticulously mapped out and recorded so they know exactly what has been done.
"We will carry on the search until we have found her"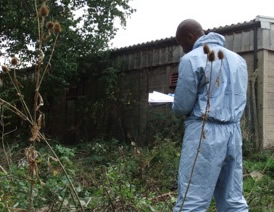 This continues to be a massive investigation.
A range of officers and staff from across the Met are taking part - to date the search has involved the Met's Underwater and Confined Space Search Team, Marine Support Unit, Search Dogs, Air Support Unit, Territorial Support Group, local borough officers, Volunteer Police Cadets, Visual Images Identification and Detections officers, plus licensed search officers.
Surrey Police, Sussex Police, Avon and Somerset Police, Devon and Cornwall Police, National Crime Agency, British Transport Police, Dyfed Powys Police, South Wales Police, Thames Valley Police, Hampshire Constabulary, Gloucestershire Constabulary, West Yorkshire Police, Bedfordshire/Hertfordshire/Cambridgeshire, Norfolk/Suffolk, Nottinghamshire Police and Lincolnshire Police have all provided specialist resources to help with the search for Alice. The Met is really grateful for all the support that has been provided.
To answer the hundreds of calls from the public, staff from across the Met have been drawn into the team. On Thursday, 25 September, four weeks on from the last sighting of Alice, during police appeals for information to help find her the Met received 150 calls.
Detective Superintendent Carl Mehta said:
"CCTV is clearly crucial in our investigation, but we still need the public's help and I want to hear from anyone who saw Alice during the afternoon of the Thursday she was last seen.
"Our searches are continuing in the local area today, and there are extra officers involved. I'd like to thank the community who have been so supportive and patient.
"In over 30 years of policing I have never seen such a strong community reaction, this is a community that is totally behind the search to find Alice and bring her home."
There is a £20,000 reward for any information that helps police to find Alice. Anyone with any information is asked to contact the Incident Room on 020 8358 0100, or call Crimestoppers anonymously on 0800 555 111.
Alice is white, 5ft 2ins tall and of very slim build with shoulder-length, light brown hair. When she left home that day she was wearing dark blue jeans and a dark t-shirt, and tartan framed glasses. She was carrying a dark rucksack, and wearing denim blue 'Vans' shoes, these shoes were in her rucksack when it was found by police on 2 September.
Full breakdown of sightings of Alice Gross on Thursday, 28 August 2014:

c.13:00hrs - Alice leaves home on foot
13:00hrs - Alice caught on CCTV walking along Campbell Road, past Hanwell Station
13:02hrs - Alice caught on CCTV walking along Golden Manor and then Alwyn Road
13:13hrs - Alice is caught on CCTV walking along the river path in the direction of Hanwell Bridge
13:15hrs - Alice is caught on CCTV walking along the Uxbridge Road
13:26hrs - Alice is caught on CCTV in Windmill Lane. She then followed the Grand Union Canal towpath until it reached the Thames, walking towards Kew
14:23hrs - Alice is caught on CCTV near the Holiday Inn, Commerce Road
15:45hrs - Alice is caught on CCTV at Brentford Lock
15:56hrs - Alice is caught on CCTV close to the GlaxoSmithKline building based in Great West Road
16:02hrs - Alice is caught on CCTV opposite Transport Avenue
16:23hrs - Three cyclists, followed by two cyclists, are caught on CCTV riding on the towpath under Trumpers Way, that crosses the Grand Union Canal
16:26hrs - The last sighting of Alice that is captured on CCTV shows her walking along the canal towpath under Trumpers Way, the bridge that crosses the Grand Union Canal. She was headed in the direction Hanwell.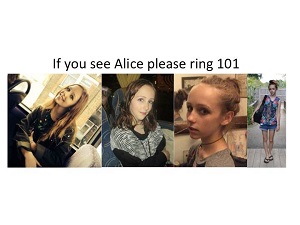 27th September 2014