Local theatre group production in West End fundraiser for Combat Stress
On Armistice Day, (Monday 11 November), London's Palace Theatre will take a one-night break from blockbuster show "The Commitments" to stage a special performance of a new play, Dreams from the Pit, in aid of the veterans' mental health charity Combat Stress. The production is written and directed by West London writer Emma King-Farlow, founder of Shadow Road Productions in Barnes, and produced by a small team of local friends and volunteers.
Dreams from the Pit follows three soldiers, Razor, Jacko and Sully, on tour to Afghanistan. Based on extensive interviews with Veterans, members of the Armed Forces and their families, it's a contemporary insight into the challenges faced by many Veterans and military families, especially when soldiers come home. Gritty, moving and often funny, the play also carries a serious message about the often unrecognised mental injuries suffered by war Veterans.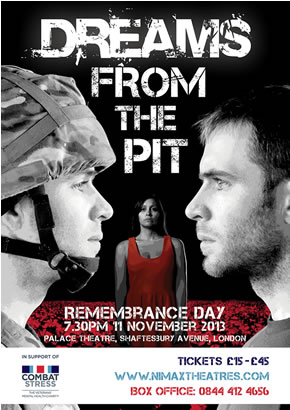 King-Farlow has drawn deeply on historic as well as current experiences of war in writing the play. The title comes from a line in Siegfried Sassoon's WW1 poem, Does It Matter?, a pithy appraisal of war injuries from the soldiers' perspective. Well-known and more recent war poetry is a feature of the production.
Combat Stress CEO, Commodore Andrew Cameron, said: "I hope that this performance will attract a wide audience. At Combat Stress we have seen rising demand for our services and, unfortunately, there is no sign of these numbers coming down any time soon. What I can say is that support and treatment can make a huge difference to helping Veterans reclaim their lives and we are keen to ensure that all those who need help can get it."
Following the performance, Commodore Cameron, representatives of Veterans and their families and members of the audiences are invited to take part in a discussion about issues raised in the play – moderated by BBC presenter Mike Williams.
Dreams from the Pit is performed and produced by volunteers. All proceeds from the 11 November performance will go to Combat Stress.
Shadow Road Productions – Dreams from the Pit
Tickets £15-£45 available from www.nimaxtheatres.com
Box office 0844 412 5656 or 0844 482 9676
Group tickets: tickets@dreamsfromthepit.com
October 28, 2013