Participate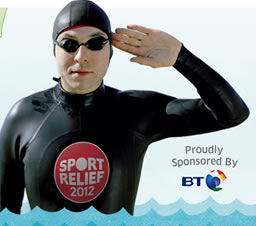 Warning. The public should not try this themselves. The Thames is incredibly dangerous and many people have drowned in its waters which have powerful tides and unpredictable currents.

Sign up for an email newsletter from:
Day six of The BT Sport Relief Challenge: Walliams vs The Thames and David Walliams is nearing the 100 mile mark of his incredible 140 mile swim. After a week of horrendous weather and a serious sickness bug, David is now well on his way to London, supported by his wife Lara Stone, several celebrity friends and even a local mutt – not to mention the great British public who have turned out in their thousands to cheer the comedian on.
He is currently expected to reach London by Sunday - but as he has been suffering his final time is as yet unknown. The latest information from #thamesswim on Twitter is that David will reach Teddington at 7.30pm today (Sunday 11th) which would mean he would be swimming past Brentford, Chiswick, Hammersmith Fulham and Putney on Monday 12th.
Swimming towards Cookham Lock in Berkshire, David spotted a Labrador who had jumped in to greet him but was having real trouble scaling the lock wall to get out. Despite having completed nearly 100 miles of arduous swimming by that point David stopped turned round and helped the dog to safety. The dog's owner, Steve Outten, 23, from High Wycombe was amazed that David stopped to help his one year old pet Vinny - who suffers from a hip complaint.


Steve said, "Vinny has hip dysplasia and was really struggling to get out just as David was swimming past. He stopped, swam over and helped me get him out - which when you think what he's going through with the swim is totally amazing - what a man."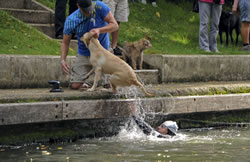 Fuelling up on fish and chips, pizza and copious amounts of bread last night, David got back in the water just after 7am this morning, joined by former Olympian Adrian Moorehouse. Wife Lara Stone also accompanied the comedian but stuck to watching from the boat and handing out cookies when energy levels got too low.

With pep talks from Sir Steve Redgrave and breakfast made by Miranda Hart, the swimming hero is powering through the water at an impressive 2.4 miles per hour and is now on target to reach the Royal Borough of Windsor by sunset tonight.
David said: "It's been a great day today. My wife Lara has been in the boat cheering me on which was such a big boost to me. Miranda Hart came along and made me porridge too which was a lovely thought, but slightly less lovely in practice. We had a little incident with a dog on the way to Maidenhead - I heard a splash and looked over to be met with the face of a sweet Labrador. I thought he was fine, but he started to really struggle when he was getting out so I swam over and helped his owner get him out."
He went on to say: "My tummy has settled a bit and I had fish and chips and some pizza last night so feel better. We have broken through the 100 mile barrier now which is great, but once I reach Teddington Lock the Thames becomes tidal and there's a whole new set of challenges. The currents and undertows are very dangerous so I'll need to be strong."
Looking back so far: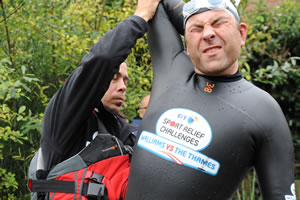 Day 5: David receiving treatment for his rash & physio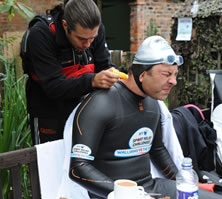 Day 4 - the pain is showing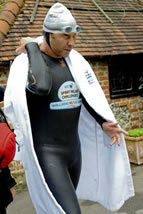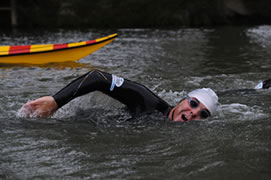 Further images from the first few days of the challenge


David is urging everyone to keep him afloat by sponsoring him now at www.sportrelief.com/swim. As well as making a donation, people can check out the GPS tracker online at www.sportrelief.com/walliams and follow the Twitter feed using #hash tag #Thamesswim to see where he'll be.
BT is giving £40,000 a day to support David's swim as part of the £1million it has committed to raise in support of The BT Sport Relief challenges - a series of celebrity challenges sponsored by BT for Sport Relief 2012. BT is also asking people to join in and become part of David's swim by 'trunking' – posting pictures of themselves donning goggles and a swimming pose in a take on the latest internet craze 'planking'.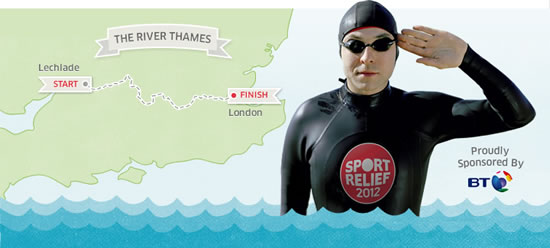 September 14, 2011