The jelly sweets have additives which may be a choking hazard for children
Parents, shoppers and traders have been warned to look out for a dangerous brand of children's sweets which can cause choking.
These sweets are imported from Asia and are marketed under names such as 'Mini Fruity Gels' and 'Mini Fruit Bites.'
The warning came from Hounslow Council's food safety team after a council environmental health officer found New Choice 'Mini Fruity Gels' (Jelly mini-cups) on sale at a supermarket in the borough.
Juliet Isitt, Food Safety Manager at Hounslow Council said: "One of my officers discovered the sweets after we received a warning from the Food Standards Agency.
"I would advise people not to buy these sweets as they contain a number of additives which could cause choking.
"If anyone has bought them, the advice is simple: Do not eat them, and contact the food safety team foodsafety@hounslow.gov.uk or 0208 583 5153. We will visit the shop where they were bought and remove any others from sale. Any trader selling the sweets should immediately contact us."
You can read the Food Standards Agency Q and A on the sweets and the ingredients they contain- here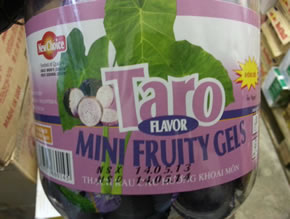 The FSA says they have often been available in small/corner shops and possibly stall at street markets. But it says they cannot be certain, however, that they are not available in other shops.
The sweets can be identified as New Choice brand 'Tropical' and 'Taro' Mini Fruity Gels in 1 kg plastic tubs.
The sweets contain a number of additives, including alginic acid (E400) agar (E406), carrageenan (E407) and processed euchema seaweed (407a) as they may pose a choking hazard. These additives, which are included in the sweets, breach legislation.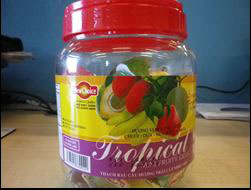 January 23, 2014