Amanda Holden helps celebrate 1st birthday of Natural Birth Centre
Related Links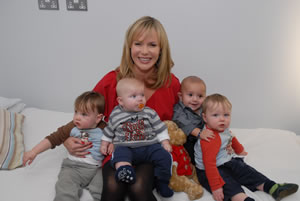 Amanda Holden meets some of the first babies born in the Natural Birth Centre at West Mid
Participate
Sign up for the BrentfordTW8.com and ChiswickW4.com newsletters
West Mid was a very proud parent this week as it celebrated the first birthday of its own baby – the Natural Birth Centre. A party was laid on for some of the first mums who gave birth at the centre a year ago, with their not so little babies, and special guest, Britain's Got Talent judge, Amanda Holden, dropped in to cut a birthday cake.
The real special guests for the day were some of the first babies born in the centre, now around their own first birthdays, who were treated to birthday teddies thanks to John Lewis in Kingston.
As no birthday party is complete without cake, John Lewis in Kingston, who have helped furnish the centre as well as the rest of the maternity unit, also arrived with a wonderful Italian-style birthday cake for the party goers.
The Birth Centre has been the home to 780 deliveries in its first year, and feedback from parents has been overwhelmingly positive. In a recent survey, 98 per cent of patients rated the quality of service as "excellent", with the remaining two per cent rating it as "good".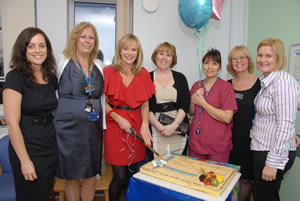 Local mum Amanda Holden, who lives in Richmond, said "The centre here is wonderful. Meeting everyone today was brilliant as are the team here at West Mid. It was so much fun."
Pippa Nightingale, Consultant Midwife who runs the Birth Centre, said, "It was fantastic having Amanda here to help us celebrate the first birthday of the centre, and we are looking forward to the next year where we can continue to offer a first class service to members of the local community.
November 26, 2009