LU sets out services that should be running
Related Links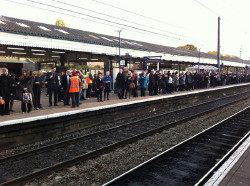 Picture of crowds waiting at Ealing Broadway this morning posted on twitter by Steve Workman http://twitpic.com/33hear
Travel Updates for Your Area
For further information visit tfl.gov.uk or phone 020 7222 1234 (24 hours) or speak to station staff.
Participate
Comment on this story on the forum
London Underground (LU) has outlined the range of services that it intends to operate today.
LU says it was able to operate up to 40 per cent of its normal services during the last strike and carried well over a million people. 93 per cent of all Oyster journeys were also undertaken across London's transport network.
Services are currently operating as follows:
A special service is operating on the Northern line, although some stations are currently closed.
A service is operating on the Victoria line between Seven Sisters and Brixton.
The Jubilee line is operating a service between Stratford to Wembley Park.
The Waterloo & City line is suspended.
The Bakerloo line is operating between Queen's Park and Elephant & Castle.
The District line is operating between Upminster, Ealing Broadway, and Wimbledon.
The Metropolitan line is operating between Baker Street and all branches of the line.
· The Piccadilly line is operating between Finsbury Park and Cockfosters, and Northfields to Acton Town.
· On the Central line, currently there is a service on the outer sections between Ealing Broadway/West Ruislip and White City and between Epping/Hainault and Liverpool Street. This service will start to change from 08.30 onwards and by 10.00 trains will run through the central area serving stations between White City and Leytonstone only.
· The Hammersmith & City line is operating between Hammersmith to Edgware Road.
· The Circle line is suspended.
LU will issue regular updates throughout the day as actual service levels become clear. Services may vary throughout the day and so passengers are urged to check before they travel to see how Tube services are operating and which alternative services are available via www.tfl.gov.uk.
Good services are operating on the bus network, Docklands Light Railway (DLR), and London Overground. Extra bus services have been provided, along with extra capacity for an additional 10,000 journeys on river services, marshalled taxi ranks, and guided cycle rides.
Volunteers are on hand at bus, Tube, and rail stations to help passengers and distribute walking maps and other useful information.
Mike Brown, Managing Director of London Underground, said:"We are doing everything we can to get as many Tube services as possible operating today and to keep Londoners moving by providing extra buses, river services, and other alternatives. Londoners will face some disruption, but we intend to run services on nearly all Tube lines, meaning that people will be able to get around.
"This strike is completely pointless. Under our plans all stations will continue to be staffed, and all stations with a ticket office will continue to have one. The changes we're proposing to ticket office opening hours are in line with customer demand, so that our employees are deployed in those places and at those times where passengers most value their help and reassurance. These changes come with a cast iron guarantee of no compulsory redundancies.
"It's not too late for the RMT and TSSA leaderships to see sense and call off this futile strike, and return to constructive talks. All this strike will achieve is the loss of another day's pay for frontline staff, whose pockets are already being hit hard by the RMT's pointless overtime ban."
RMT general secretary Bob Crow said: "All we have been asking is that the London mayor stick to the pledge he made during his election campaign, when he too recognised that people wanted to see stations staffed properly."
London mayor Boris Johnson apologised to Londoners for the inconvenience but added: "We must have sensible reforms of the ticket offices."
Despite the strike, the conciliation service Acas announced on Tuesday that fresh talks would be held on Thursday in a bid to resolve the dispute.
A fourth strike is planned for 29 November.
Customers are advised to check www.tfl.gov.uk for the latest information on how services are running and for a range of travel tools to help plan an alternative route or method of transport.
3 November 2010