Related links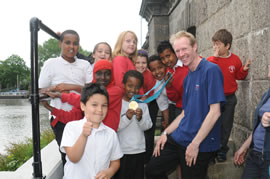 For more details on Brentford Boating Arch and how you can get involved please visit the Trust website at www.brentfordfccst.com or call 0844 247 1889 for more details.
Brentford Boating Arch (BBA), the activities HQ of Brentford FC Community Sports Trust (BFCCST) water based sports programmes, located in an arch below Kew Bridge, was officially re-launched this month.
Over 90 distinguished guests from the public, private and voluntary sector came together to celebrate the launch of phase 2 of this exciting project.
Originally opened in 2007, the Arch housed basic changing space and storage facilities and was used as a base to successfully build participation amongst the local community, train new coaches and forge links with local schools, community groups and businesses.
BBA has recently undergone a £69,000 capital refurbishment programme. The development has seen improvements to the meeting/teaching space, kitchen area, kayak storage space and has brand new toilets, showers and changing rooms.
This is the second phase of the project that aims to open up the river to people of all ages within the communities of West London, enabling community groups, schools, and individuals, including children and adults with learning and physical disabilities, to participate in all the activities offered by the Trust and connected organisations.
The funds for the scheme have come from several sources, including The London Marathon Charitable Trust, which awarded £41,000 and The Veolia Environmental Trust, which has awarded a grant of £27,965 through the Landfill Communities Fund. In addition, St George West London has provided external drainage work and assistance with running costs.
As part of the afternoon's proceedings, pupils from Strand on the Green Junior School took part in both kayaking sessions from BBA and ecology lessons from Thames Explorer Trust. The guest speaker on the day was Mr. Rowley Douglas MBE, Gold medalist in the men's VIII (rowing) at Sydney 2000.
On seeing the arch in action Rowley commented "Having rowed through Kew Bridge and driven across it daily, I cannot think of a more fitting and community spirited project than the one I visited today. One of the 8 year old boys summed it up to me when he said simply "this is just awesome". That young boy had just been on the river Thames for the first time in his life and this is because Brentford Community Sports Trust and its partners have given access through the Kayaking Club at Kew Bridge. I will look forward to hearing the story about the first Olympian to have come from Kew Bridge."
The Arch is also a base for the Thames Explorer Trust, an educational charity that provides interactive learning experiences for local primary schools. The lessons incorporate both indoor and outdoor learning and focus on the ecology and archaeology of the River Thames. The Arch is also home to Edge Progressive Paddling, a canoe club established in 2009 by Brentford FCCST. Edge is committed to changing the profile of the sport and widening uptake to include more women and people from ethnic minorities. Edge currently has 50 members and aims to double this by 2012.
Dr John Disley MBE, President on the London Marathon Trust who donated £41,000 to the programme said, "I would like to see many other organizations in London follow the example of BFC Community Sports Trust at Kew Bridge Arches. It shows what you can do with some initiative and the ability to follow up on good ideas."
Speaking about the project, Cllr Ruth Cadbury, Deputy Leader of Hounslow Council said "The Boating Arch ensures the Thames in Brentford is actively used by local people, giving enjoyment to so many children, teenagers and adults. Paddling around on the water can be wonderful and is always fun."

Cllr Julian Bell, Leader of Ealing Council added "The launch was a fantastic event for a fantastic new facility at the boating arch, superb opportunities for our young people and I congratulate everybody associated with the project. BFC Community Sports Trust has done a fantastic job yet again and we are proud to be in partnership with them."
Ian Dobie Managing Director of St. George West London and Chairman of Brentford FC Community Sports Trust said 'When we acquired the lease to the Arch we had a vision to create a vibrant boating facility which would benefit the whole community. With the hard work and support of the Trust and local people, I believe this vision has been met and we are very grateful to the hard working individuals involved and those who have generously provided financial support to ensure that the club will serve the community for many years to come.'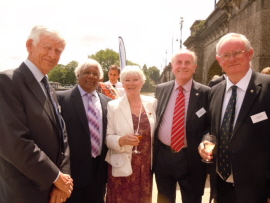 The day's proceedings were rounded off with the donation of £500 from the Rotary Cub of Heston & Isleworth (pictured left). The money will be used to further develop the disabilities programme that the Trust runs at both Brentford Boating Arch and Brentford Lock.
Brentford Boating Arch has now officially re-opened and with it a new wave of activities are available on the Thames. These include paddles for young people, adults and families as well as sessions for community groups, schools and specialist groups. BBA also has the facilities to host teambuilding days for all ages and abilities as well as corporate event days. At BBA there really is something for everybody to get involved in.
June 6, 2011