Prime Ministers backs local academy as DfE allows plan to move to next stage
As the Prime Minister announced that a further 500 'free schools' would be opened if the Conservatives were re-elected, it emerged that the proposed new Academy for Brentford/Isleworth has been given permission to move to the next stage. It is hoped the school will be able to open in September 2017 with a year seven intake of 180 pupils.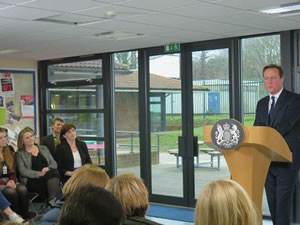 The Prime Minister David Cameron visited the Green School in Brentford where a new boys school is planned. Mary Macleod MP who was present, said: "The Borough has a critical need for over 870 additional secondary school places by 2020.The opening of the two schools will provide a welcome boost to families in West London."
It is hoped the new Academy secondary school for Brentford/Isleworth will be able to open in September 2017 with a year Seven intake of 180 pupils. A funding agreement for the new school is expected to be signed later this year or at the start of 2016. Work is continuing on identifying the site for the new School, which local head teachers say is necessary due to overwhelming demand for secondary places. Chiswick School is already set to expand and has a waiting list.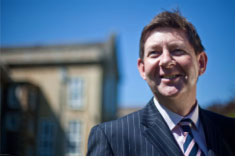 Chiswick School head teacher Tony Ryan
Chiswick School head teacher Tony Ryan, is chair of the Secondary Education Improvement Partnership, the group of headteachers and consultants in the development of the bid. He said:
"We are delighted that the HIP (Hounslow Improvement Partnership) free school has been given permission to move to the Pre-Opening stage. This essentially means that central government has approved the prepared bid and we can now move to the fine detail required to secure a funding agreement and to open in September 2017 with a year 7 intake of 180 pupils.
"The creation of this new Academy is a unique response from Hounslow School headteachers (both primary and secondary) working closely with the local authority and central government to provide high quality solutions to what is potentially a very difficult problem with a population boom currently coming through the primary sector.
"The intention was always to create a successful Co-educational, non-denominational school where it was needed most. This new school, together with recent expansion feasibility exercises at Chiswick School, Isleworth & Syon and Heston Community School goes a long way to providing high-quality options for local parents and students.
"We are grateful for the high levels of support offered by local parents and will now put our efforts into securing suitable accommodation and creating a visionary school to open its doors to the first cohort of students in September 2017."
Support for the proposed free school had been described as "overwhelming" with 402 out of 426 respondents with sons/daughters currently in year 3 suggesting that they would be willing to make the new school their first choice, and 349 out of 369 respondents currently in year 4 suggesting the same. Those behind the bid say this clearly demonstrates the parental desire for this type of school in the area.
March 9, 2015