As students and their parents mark graduation from Key Stage 3
'Everyone here can achieve their dreams', said John Inverdale, the BBC sports front man, to a packed hall of Year 8s and their parents at Chiswick Community School's graduation event to mark the end of Key Stage 3, last Monday.
He described his own dream of becoming a sports journalist coming true in in an upbeat speech as he handed out awards to Year 8's highest achievers in both academic subjects and sports. 'You are all talented young people', he said, 'if you give it everything there is no reason why you cannot be anything you want to be'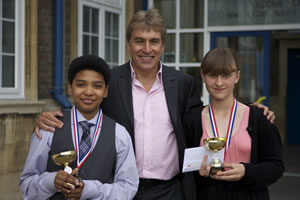 Nikolet Gashi and Dylan Carty certainly have given it everything this year emerging with an array of nominations from staff to become the year's highest boy and girls achievers. Sports achievement awards went to Arthur Rogers and Tamera Brumant.
This evening was a first for Chiswick as it marked graduation from Key Stage 3 for all students. In year 9, students will study some GCSEs and vocational courses a year early in order to gain a wider variety of qualifications.
Two home grown year 8 bands performed interlude music between award presentations. Little Red Dress, an acoustic group, captivated the audience with their version of 'Use Somebody', whilst The Oscars rocked the house with their own song.
Feedback from parents was warm and appreciative. 'The school has done such a lot for my daughter. The opportunities she has had here are amazing' said Mrs Lee a year 8 parent. Well done to Ms. MacDonald (Learning Co-coordinator for Year 8) and her team for a fantastic night.
July 15, 2010