Joins Mary Macleod to help deliver leaflets in the constituency
In a clear indication that the Brentford and Isleworth is considered a key battleground seat in next week's election vote Samantha Cameron has been out canvassing locally.
Sam Cam is widely considered as the biggest of 'big guns' for the Conservatives and she joined Mary Macleod as she went door to door around Ellerdine Road on Wednesday morning (29th April) helping deliver party leaflets.
Before she left, Samantha Cameron said, "Mary, you are amazing and I know you have worked so hard. I really hope you are re-elected on 7th May and I wish you all the very best of luck."
Mary commented, "I was delighted that Samantha Cameron came out to join me campaigning today. It certainly took some people by surprise to have the Prime Minister's wife knocking at their door!
"Every vote counts in this election and having Samantha here today shows just how important this constituency is. Local people will be vital in determining the most important election in a generation. "
During the visit she went to the home of Baljinder Hansra for a cup of tea. Mr Hansra was instrumental in the setting up a school in the Punjab which Mary Macleod visited on a trip to the region in 2013.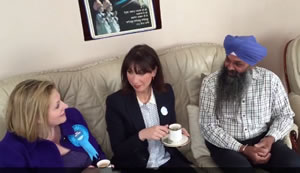 Samantha Cameron in Brentford and Isleworth
Ms Macleod has recently welcomed the decision by Education Secretary Nicky Morgan to continue to offer GCSEs and A Levels in minority languages.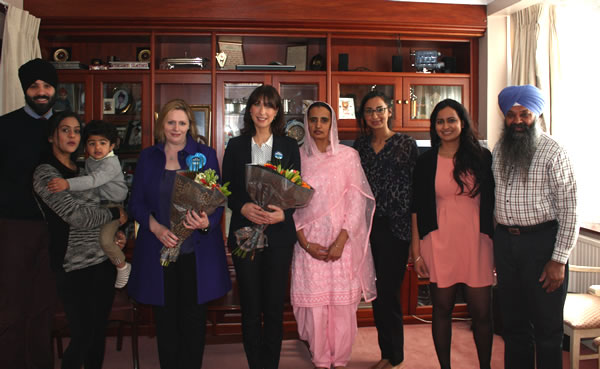 Samantha Cameron with the Hansra family
She said, "I think it absolutely right that we protect exams in minority languages. I was at the Gurdwara in Hounslow last Sunday and I know that local Sikhs were concerned about losing qualifications in Punjabi. I'm delighted that Nicky Morgan has now written to the exam boards, telling them to protect these important subjects in the future".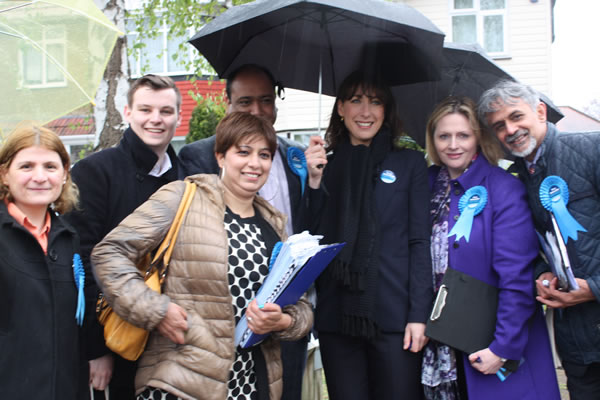 The general election takes place on May 7th. The candidates for the Brentford & Isleworth constituency are: Joseph Bourke (Liberal Democrat), Ruth Cadbury (Labour), Daniel Goldsmith (Green Party ), Richard Hendron (UKIP), Mary Macleod (Conservative
May 1, 2015