Road shut between Kew Bridge and Chiswick Roundabout now reopened
The A205/Kew Bridge has now been reopened (18.30) according to TfL. The earlier congestion which was due to the road closure in both directions will take some time to clear, following an incident at a manhole near the Leisure Centre.
Substantial tailbacks had developed in all directions throughout the evening and buses were on diversion.
There appeared to have been a developing problem with a manhole near Kew Bridge Court which became progressively more serious during the afternoon. Initially just one lane was closed but soon afterwards the police shut the road entirely.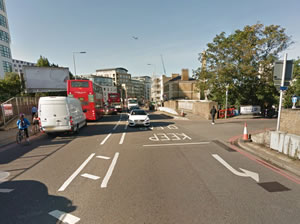 Junction of Chiswick High Road and Lionel Road (Google Street View)
London Fire Brigade were in attendance at the scene. Hounslow Council initally reported a fire at the junction of Chiswick High Road and Lionel Road. Some other reports suggest that there was fire coming from the manhole. The manhole was then reported to have collapsed.
There were traffic tailbacks in all directions extending to the A205 Gunnersbury Avenue and into Chiswick.
Bus routes 237, 267, 391, and N9 are subject to delay and diversion.
November 30, 2015