TfL holding information session on Power Road Bridge replacement
Transport for London (TfL) are to replace the Power Road Bridge (below) near Chiswick Roundabout, which carries the A406 North Circular Road (Gunnersbury Avenue) over the railway line.
As the project is likely to cause a significant level of traffic disruption in the area so TfL are to hold an information session to brief local residents.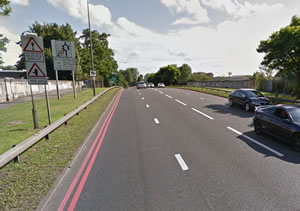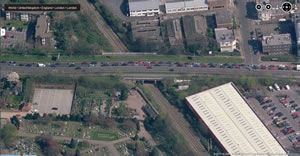 The condition of the bridge, which was built in 1922, has deteriorated. TfL say they will replace it with a new bridge with a wider carriageway, to provide better access for pedestrians and cyclists.

The preliminary works will start in September, with main works taking place between winter 2015 and 2017.
During the preliminary works the majority of the work will take place Monday to Friday between 08:00 and 18:00, and on Saturdays from 08:00 until 13:00.

During the day four lanes of traffic will continue to operate. The footpath on the western side of the bridge will be closed but temporary footways will be in place.

Some work will take place over night and at the weekend. In attempt toll minimise disruption during night time closures TfL will keep at least one lane open to traffic.

There will be at least one full closure of the A406, between the Chiswick Roundabout and Popes Lane junction. This is currently expected to take place in March 2015. The road will be closed overnight, and TfL provide full details nearer to the time.

Members of the project team will be available to listen to your comments and answer any questions you have at an information session on Wednesday 3 September. The session will take place between 16:00 and 20:00 at the Gunnersbury Triangle Club, The Ridgeway, W3 8LN. The entrance to the club can be seen from the intersection of The Ridgeway and Princes Avenue.
September 4, 2014