Mary Macleod no longer a PPS after resignation of Maria Miller
Local MP Mary Macleod has lost her position as Parliamentary Private Secretary, following the resignation of Culture Secretary Maria Miller.
The MP for Brentford and Isleworth was one of a very few Conservatives to stand up for Ms Miller, claiming she had been the victim of a media "witch hunt".
Maria Miller resigned (April 9) following the furore over her expenses claims and Sajid Javid has been appointed as the new minister for Culture, Media and the Arts.
At present Mary is no longer a PPS as it is likely he will appoint his own parliamentary aide. She will continue with her constituency work and focus on next year's general election where she will be battling against Labour's candidate Ruth Cadbury.
After the resignation Mary said :"Maria Miller was an excellent Culture Secretary, was great to work with and she will be missed from the frontbenches."
The Conservative MP for Brentford and Isleworth took to Twitter and gave television interviews in advance of the resignation to praise her parliamentary colleague saying that she had been cleared of allegations but was still being "hounded" by the media.
Mary said there was a "witch-hunt" because some newspapers were angry about Mrs Miller's reforms to press regulation.
Mary Macleod had been Parliamentary Private Secretary (PPS) to the Culture Secretary since 2010 and they had worked closely across the briefs of Culture, Media and Sport.
"We can't just let the media do whatever they want and hound someone where allegations have been dismissed. That's wrong in my book," Mary had said in a BBC interview. Ms Macleod said these were her opinions and she also confirmed she had sent Conservative colleagues a text message urging them to rally round.
Mary's tweet on Tuesday said: "Full support for @maria_millermp as she has been cleared of allegations but still hounded by media. She is an excellent Culture Secretary".
The tweet drew a large public response, mostly critical, including remarks such as:
"....her apology was an arrogant mockery, it's the public who are offended"
"...you are out of touch with your electorate"
"...what a display of arrogance, maybe you should resign as well"
"if you can't see what the problem is then you are part of the problem..."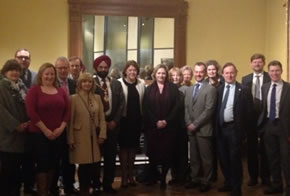 Maria Miller and Mary Macleod (centre) pictured during a visit to Gunnersbury Museum in January 2014
Parliament is out of session for the Easter recess.
April 12, 2014