One Billion Rising Campaigns against violence to women
Mary Macleod MP was joined by over a hundred people who gathered in Parliament Square on Valentine's Day to make a stand against violence against women as part of the One Billion Rising Campaign.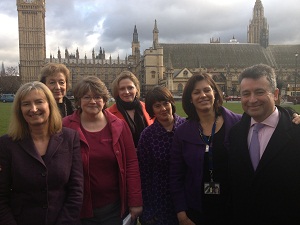 A number of public figures spoke at the demonstration, including actress Thandie Newton as well as a number of MPs who have a particular interest in ending violence against women. The group read out the names of all the women who were murdered in the UK in the past year as a result of domestic violence, a chilling reminder of the extent of the problem and the personal tragedies that lie behind the statistics.
The One Billion Rising campaign initiated by Eve Ensler, author of The Vagina Monologues invited one billion women to walk out, dance, rise up and demand an end to violence against women. It comes at a time of global outrage against domestic and sexual violence towards women, particularly following the gang rape of the 23-year-old medical student Jyoti Singh in Delhi.
Mary commented:
"In the UK alone, over 300,000 women are sexually assaulted each year and 60,000 women raped. Violence against women should never be tolerated. As an MP and a woman, I strongly believe that our community must take action against these terrible crimes to ensure that women are protected from domestic violence.
To the perpetrators of violence against women and girls, the message is simple: what you're doing is wrong and won't be tolerated. The One Billion Rising flash mob last week is a perfect example of how women across the globe have banded together to demand an end to violence and we must keep up this momentum for change."
February 12, 2013