Children made their own torches to celebrate World Sport Day
Related Links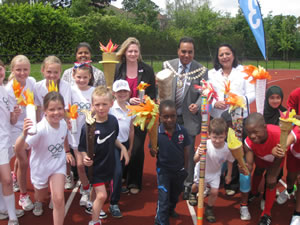 Participate
Mary Macleod joined schoolchildren from across the Borough this week to celebrate the London 2012 World Sport Day. The event was organised by the Sport Impact teams in the Borough to celebrate World Sport Day and the start of National School Sport Week.
Children from all the primary schools across Hounslow Borough were represented and the teachers were also supported by pupils from secondary schools in their role as Sport Leaders.
All the children made their own Olympic torches especially for the day which they used to take part in a relay around the running track at the newly improved Osterley Sports and Leisure Centre.
The event encompassed all aspects of the Get Set educational programme that accompanies the London 2012 Olympic and Paralympic Games, with music and dance performances adding to the Olympic Torch relay on the track.
Mary Macleod commented:"I was delighted to take part in this event and see the effort that all the children put into making their Olympic torches as well as the music and dance performances. It is so important in this Olympic year, that we encourage everyone to get involved and hopefully we can create a lasting legacy with more children getting involved in sport.
Alan Watkinson, the Partnership Development Manager from Isleworth & Syon School Sports Partnership challenged us all to make an Olympic pledge at the event and I plan to start mine by joining the Fuller's London Pride 10k Family Walk and Fun Run this Sunday to raise money for the cancer care unit at Hammersmith Hospital. Please do join me if you can!"
Mary Macleod was joined at the Hounslow Schools Olympic Torch Relay by the Mayor of Hounslow, Councillor Pritam Grewal, Deputy Mayor, Councillor Mindu Bains, the Director of Children's Services and Lifelong Learning, Judith Petterson, local Councillor Barbara Reid and other Hounslow Borough Councillors.
June 27, 2012