Analysis shows Mary Macleod MP would have lost out to Labour opponent had system been in operation at last year's election
Related Links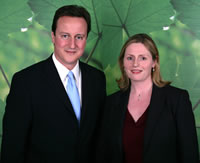 Prime Minister David Cameron and Mary Macleod MP
Participate
Comment on this story on the forum
For Mary Macleod and another 28 MPs, opposition to scrapping the first-past-the-post voting system is a matter of raw political survival, an analysis by The Independent has found.
Researchers at Essex University, who analysed every constituency, found that in Brentford and Isleworth Ann Keen would have been the 'likely winner' in last year's general election had AV been in operation.
Eight Labour MPs and 21 Conservatives campaigning against the alternative vote would not have been elected including Mary Macleod and George Eustice, one of the key spokesmen for the No to AV campaign who won his seat with barely 38 per cent support.
The analysis, published in The Independent, did suggest that the Tories would still have been the largest party at the last election under AV. But the Commons would have looked significantly different: David Cameron's forces would have won overall 23 fewer seats; Labour would have had 10 fewer MPs; and the Liberal Democrats' ranks would have been bolstered by 32 extra MPs.
For the Tories, in addition to Mr Eustice, 20 current Tory MPs – all of whom favour first past the post – would have lost under AV in 2010.
The full article and analysis can be read here.
May 3, 2011