Launches rallying call for support alongside launching a crowdfunding campaign

Alex Barrett, director-editor, of London Symphony, said: "Our campaign is a chance for people to show the world that silent, 'non-commercial' cinema still matters". The film itself is described as "a poetic journey through the city of London, exploring its vast diversity of culture, religion and design".

The campaign went live early on 19th September, through Kickstarter, at www.londonsymphfilm.com. It runs until Sunday 19th October.

Unusually, the film is being made in the style of a silent City Symphony. As Barrett explains: "We believe that by looking at the present through recourse to the past, we can learn something new about life today. We won't be parodying the style, but will be true to the spirit of the filmmakers that came before us. We hope to capture the rhythm, the motion and the experimentation that made their films so wonderful, while simultaneously reimagining the City Symphony for the 21st Century".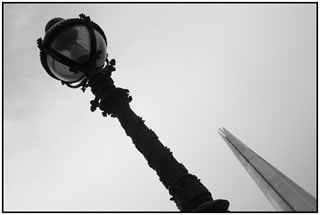 A number of respected figures from the silent film community have already given support to the project. Noted film historian Kevin Brownlow has commented:
"In the early days of the cinema, there were several great City Symphonies – for Berlin, Paris, Rotterdam, but never for London. Alex Barrett is going to put that right, and his plans suggest a remarkable picture."
Composer James McWilliam (The Patrol, Born of War, Exorcist Diaries) will be creating an original symphony for the film's soundtrack. The filmmakers plan to record the music with a live orchestra, but also have it performed live at special event screenings of the finished film.

A download of McWilliam's score is just one of the rewards being offered as part of the campaign. Other rewards include: an annotated script ebook, a travel card wallet, a flip book, the chance to be in the film, the chance to have your building featured in the film, photographic prints, an original etching, a constructivist-style poster (pictured above), and, of course, the chance to see the film. There's also the opportunity to become a producer on the film.

London Symphony reunites the team behind the short film Hungerford: Symphony of a London Bridge. A three-minute city symphony in its own right, the short film now serves as a pilot for the team's intentions with the feature-length London Symphony. The short won three awards and screened at festivals around the world. It can be viewed online, on the London Symphony crowdfunding page: www.londonsymphfilm.com.

September 18, 2014