The new terminal will serve 20 million passengers a year
Heathrow Airport has announced that its new Terminal 2 is to open one year from today, on June 4th 2014. The first flight to land in the new terminal will be a United Airlines flight from Chicago, scheduled to land at 05.55am.
Terminal 2 will eventually serve 20 million passengers a year and be home to 23 Star Alliance airlines, as well as Aer Lingus, Virgin Atlantic Little Red and germanwings carriers.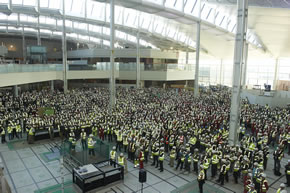 Workers gathered to hear the announcement
The £2.5bn construction project is one of the largest privately funded construction projects in the UK and will have provided 35,000 jobs across the country by the time it opens. Twenty-five thousand staff are to be trained to work at T2 including airline staff, retailers, cleaners and delivery drivers.
The company says the new terminal will mean a big improvement in passenger experience and include the latest technology to offer a variety of check-in options, fast bag drops, 52 shops and 17 bars and restaurants. Check-in will be large enough to accommodate 3,000 passengers per hour.
They say it will be family-friendly with designated family security lanes during peak holiday times, a pJune 4, 2013ill have push-chair friendly concourses and numerous lifts. Multi-lingual " ambassadors" will be on hand to help passengers and personal shoppers will be on hand in the duty-free area.
For business travellers, a short stay car park will offer space finding technology and a 'find your car' service to ensure quick and easy access. Self-service check-in options will allow business travellers to get to the departures lounge as quickly as possible, whilst connectivity tables and wifi will allow them to work until they board their flight.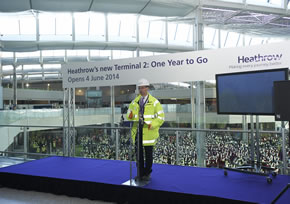 John Holland-Kaye, Heathrow's Development Director
The project includes the main Terminal 2 building, a 522-metre satellite pier (T2B), a 1,340 space car park and an energy centre and cooling station.
Speaking at the Terminal, the Commercial Secretary to the Treasury, Lord Deighton said: "Infrastructure is quite rightly at the heart of Government plans. We're investing more, cutting red-tape and improving Government capability to deliver major infrastructure projects. But the vast majority of investment and delivery capacity lies in the private sector with projects such as Terminal 2, which forms part of the Government's Top 40 priority infrastructure investments."
John Holland-Kaye, Heathrow Development Director, said: "The new Terminal 2 has been designed around the needs of our passengers, to allow them to get to and from their flights as quickly as possible. Like Terminal 5, it will promise world class customer service and a warm welcome to Britain, which visitors expect from the UK's hub airport."
The old Terminal 2, opened by the Queen in 1955, was demolished after 54 years of service. It was Heathrow's first terminal, originally called the "Europa Building" and was designed to deal with 1.2 million passengers a year. By the time it closed in 2009 it was handling 8 million passengers a year.
The main build is on schedule for completion in November 2013 and will be followed by six months of testing. By the time the terminal opens for service, it will have undergone 182 trials and been tested by 14,000 people. Some trials will involve more than 3,200 people, with the whole process designed to test the passenger journey as comprehensively as possible.
The terminal will open in phases, with the 26 airlines moving in over a period of six months. Just ten percent of flights will operate for the first three weeks of June before gradually building up to full operations.
June 4, 2013