Grabs wheel of careering coach to save passengers
Related Links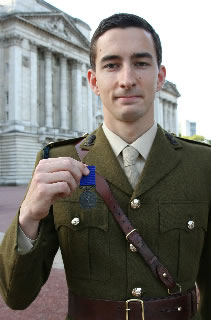 Michael Haughey
Participate
Comment on this story on the forum
An Army Cadet leader from Chiswick has been honoured with a rare award for bravery at Buckingham Palace. Twenty-five year old Michael Haughey grabbed the steering wheel of a coach whose driver had lost control and steered it to safety on a busy motorway last year. His prompt action saved the lives of all on board the coach.
He was presented with the rare and prestigious Bronze Medal of the Royal Humane society by HRH Princess Alexandra at the palace on Thursday ( Ocober 20th).

Michael , who is an Acton Army Cadet Leader, saved the lives of over forty young Army Cadets and staff travelling by coach to their annual camp in Wiltshire last August. His citation reads, "…for having, on 15th August 2010, at very great personal risk saved the lives of over forty cadets and officers of the Army Cadet Force, when the driver became ill and lost control of the coach they were travelling in, on the southbound lane of the M3 motorway between junctions 3 and 4."
Along with two other supervising members of staff Lt Victoria Coles and Sergeant Major Instructor Clive Clahar, Michael acted swiftly when the coach driver lost control - Michael steering the veering coach to a safe halt in the emergency lane of the opposite carriageway. As a result no one was seriously injured. The cadets were able to continue and enjoy what is the highlight of the cadet year – annual camp.
A Police Officer at West End, Michael commented "It's very nice for this to be recognised, we were very lucky and of course it was not just my actions but that of others which brought us to safety. In some ways I just happened to be at the right place at the right time to do what was needed." After the ceremony Michael accompanied by his partner Emma Clark and both their fathers said "It was fantastic being here at Buckingham Palace, really cool"
Michael originally from Chiswick, was both a cadet at the vibrant 202 Acton Detachment (Royal Engineers) and returned to serve as an adult volunteer, receiving a commission in February 2010. He is now Training Officer for the whole of 20 Company which includes a large part of North West London. He now lives in Camden.
First Aid is an integral part of the Army Cadet Syllabus, as is leading and dealing confidently with unusual situations, demonstrated by his actions on this occasion. He has also received a commendation from the Metropolitan Police.
The Army Cadet Force (ACF) is the Army's national voluntary youth organisation with a membership of over 47,000 12 to 18 year old boys and girls. It operates in over 1700 locations all over the UK. Its aim is to inspire young people to achieve success in life, with a spirit of service to the Queen, Country and their local community alike.
In Middlesex and North West London ACF there are 34 Detachments, with over 1000 cadets, which meet twice a week in locations all over the North West of London, from Barnet in the North to Victoria in the South and as far West as Staines. The cadets participate in a full range of activities which include sport, first aid, adventure training and community work, as well as military skills. The ACF are also major participants in the Duke of Edinburgh's Award.

October 22, 2011