Audition to busk in the Underground
Related Links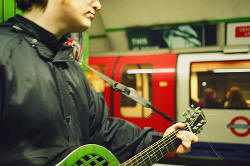 Sign up for email newsletters from ActonW3.com,
Participate
Comment on this story on the forum
London Underground is calling for talented musicians to audition for much sought after licences which will allow performers to busk at Tube stations across the Capital. It is the first time in two years that spaces have become available.
The licences, which are available for a limited time only, offer musicians a great opportunity to showcase their talent to the millions of customers who travel on the Tube everyday.
The auditions, which start at the end of May, will be judged by a panel of LU staff and professionals from the music industry and record labels, who will be looking for gifted musicians with a wide range of songs. Performers will be marked on their presentation, musical ability, repertoire and originality.
The licensed busking scheme currently includes 38 busking pitches, which are like mini-stages for musicians, in 25 different stations. LU has already received around 700 prospective enquiries about future auditions.
Richard Parry, Director at London Underground, said:
"The licensed busking scheme has been a great success with both passengers and buskers alike and offers musicians a great environment in which to busk while also entertaining our customers as they travel on the Tube. It is a real opportunity for musicians to showcase their talent and we would encourage them to apply while spaces remain open."
Along with the upcoming auditions, LU is open for sponsorship offers for the busking scheme. Sponsoring our licensed busking scheme will provide the sponsor with a range of marketing and PR opportunities as well as the possibility to align their brands with this established Underground music culture. Previous sponsors of the busking scheme include Coca Cola, Carling, Capital 95.8 and thelondonpaper.
Anyone wishing to apply for a license must complete and return an application form by no later than midday on 14 May 2010. Applications are now available and can be found on our website (www.tfl.gov.uk/busking)
Auditions will take place every Thursday and Friday between 27 May and 2 July and licenses will be issued to successful applicants after the completion of the auditions.
May 9, 2010