Mayor pays a visit to Fuller's Brewery and Brompton Bicycle factory
The Mayor of London, Boris Johnson, today visited Fuller's Brewery in Chiswick and the Brompton Bicycle factory in Brentford to promote the capital's business successes outside the Square Mile, and to see the role businesses like Brompton and Fuller's play in supporting London's economy.
The Mayor said, "With Fuller's selling real ales to Bud-loving Americans and Bromptons shifting bikes to the Dutch it shows how there are no barriers to international markets for high quality London manufactured goods."
Fuller's Chairman Michael Turner said: "The heritage of Fuller's and our beers is firmly rooted in London, and make up a huge part of the appeal our beers have abroad. We have been a constant presence in London's history and we look forward to forming part of its exciting future, particularly with the eyes of the world firmly fixed on our home town for the next few years."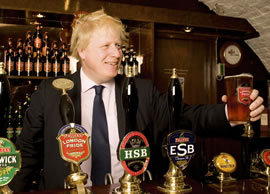 After sampling some of Fuller's wares, the Mayor rode on a Brompton bicycle with Brompton's Managing Director, Will Butler-Adams, for the short ride to the factory in Brentford.

Once at the factory, he met Andrew Ritchie, inventor and founder of Brompton Bicycle along with members of the design team who demonstrated some of the latest projects they are working on. Boris was then given a tour of the factory, where every Brompton is built by hand from scratch, before being sent out across the UK and to 37 export markets around the world.

Boris was his usual flamboyant self and was quick to engage with many of the Brompton staff; he seemed to be genuinely interested in all the processes involved in manufacturing this iconic bike.
Finally, after a demonstration of the prototype Brompton Dock scheme, Boris and Will posed for photos outside the factory.
Boris said of the visit: "Here Brompton are building their bikes by the Great West Road; it's just a great example of the diversity of manufacturing found here in London."
Will said: "It is fantastic to have the Mayor of London visit the factory and see what we are doing first hand. We take great pride in making a quality product here in the capital, and getting Boris in the saddle was a great way to demonstrate the product. We had a lot of fun on the ride from Chiswick; I think he really liked the bike!"

June 3, 2011