Local band given painting by iconic artist
They were previously called 'Exit Through The Gift Shop' and although the name may not have brought the band massive musical success it has brought them unexpected riches.
The group's members, singer Nathalie Zalewska, guitarists Mark Atkinson, Kevin Wilson and Darren Moore and drummer Simon Duncan all locals, are sitting on a small fortune after being given an original work by the street artist Banksy.
The painting (below) which is the size of a double bed and shows the grim reaper riding a dodgem has been valued at £200,000.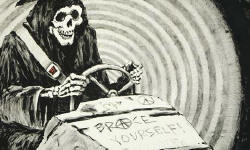 It was sent to drummer Simon Duncan, by means of compensation after Banksy chose the name of Duncan's band for the title for his film, Exit Through the Gift Shop.
When a journalist pointed this out, the reclusive artist emailed the band and offered to paint them a new backdrop if they consider changing their name.
The band gave two him two choices and Banksy settled on Brace Yourself.
Duncan says the band were totally amazed when they got the painting: "We had these hilarious emails from someone saying he was Banksy, but we didn't know if they were genuine, then a scruffy white van arrived. The driver had no idea what he was carrying.''
Bass Guitarist Darren Moore adds: '' I'm not sure if the artwork really suits us a band - because it looks pretty scary - people might expect us to be a heavy metal or emo band! We're not heavy metal but we do enjoy making pop songs like Lady Gaga, Kyle Minogue, and Madonna.
''Unfortunately none of us got to meet Banksy but we're all fans - it was really exciting watching his film Exit Through The Gift Shop knowing what had happened to us.
''We've all sent him huge thank you's but haven't had any further dealings with him - we'd love to meet him one day and thank him in person.
''I, personally am really happy with the outcome because we'd read that he was a genuine man and that he does lots to help people out and I'm really pleased that he was true to his word.''

July 29, 2010