Futuristic design for bus depot and flats at Capital Interchange Way revealed
A major new development between Chiswick Roundabout and the site of the development around Brentford stadium will feature a number of futuristic buildings reaching up to 22 storeys high.
The design by Stirling-prize winner Will Alsop OBE, Founding Director of aLL Design is for a mixed-use new development at Capital Interchange Way, including a bus depot, a car showroom and 350 new homes.
The section nearest the M4 would be the equivalent height of a 22-storey building, with the rest of the development stepping down toward the new Community Football Stadium at Lionel Road.
The idiosyncratic design which has been described as 'wacky' by some locals is typical of the previous work of the architect.
The site is on the opposite side of the M4 from the 32-storey skyscraper planned for next to Chiswick Roundabout. Previously this site was going to be the location of the Octopus building.
Will Alsop said, "Our aim is to make a positive contribution to the Golden Mile which, broadly speaking, follows the M4 section of the motorway, and is a gateway to London for millions of people each year. The requirement for the bus depot was of primary importance and led the team to design a mixed-use development that includes recreational facilities and a park; thus creating both a transport and community hub."
New office space has been designed in a range of formats, with 'pod' structures connected by an elevated walk-way aimed at tech and media start-ups. Relocating the Metroline's bus depot, could facilitate a new school at the Commerce Road site in Brentford.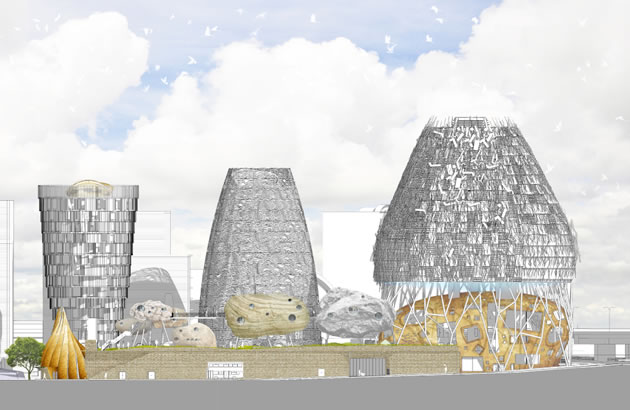 Plan for mixed use development at Capital Interchange Way

A range of innovative technologies are being considered, including using the waste heat from a 'data centre' to heat the homes, using 'grey water' from the homes to wash the buses, as well as the use of vegetation, algae and titanium dioxide coatings to absorb air pollution.
Cllr Steve Curran, Leader of Hounslow Council, said, "We have an ambitious vision for a strategic regeneration of the Golden Mile, making it fit for 21st Century working and living. We welcome high-profile architects like Will Alsop bringing forward imaginative design and strong investment in our borough."
Public Exhibitions of the latest proposals will be held this autumn at the London Museum of Water and Steam between 5pm – 8:30pm on Thursday 29 October and Monday 2nd November.
November 1, 2015