Site by Chiswick Roundabout & Brentford stadium development to be transformed
A leading architect has been has been commissioned to conceive a design for regeneration at Capital Interchange Way which will include a new bus depot and 350 new homes. The site is near the planned Brentford football stadium development close to Chiswick Roundabout and will form part of the redevelopment of the A4 'Golden Mile'.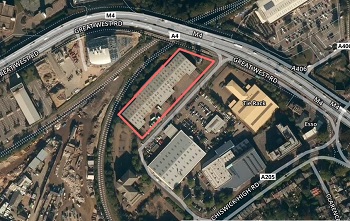 The evolving plans formed by Professor Will Alsop OBE, founding director of aLL Design, seek to regenerate the site with a mixed use development, incorporating a new bus depot, new homes, a car showroom, office space, a media hub and raised landscaped public park space.
The new bus depot would replace Metroline's current facilities at Commerce Road, Brentford, and could facilitate provision of a new school at the Brentford Lock site.
The site is on the opposite side of the M4 from the 32-storey skyscraper which there are plans to build next to Chiswick Roundabout. Previously this site was going to be the location of the Octopus building.
Will Alsop said, "Hounslow is an exciting area, with the Golden Mile area a key gateway into London; innovative and quality design is evolving in the Borough and I am delighted to be exploring ideas for the site at Capital Interchange Way."
"aLL Design is currently working on ideas for a mixed-use project, to rejuvenate this run down site near the M4. Our ethos is simple - to 'make life better'. We're looking forward to working with Hounslow Council, together with the local community, to enhance environment and well-being."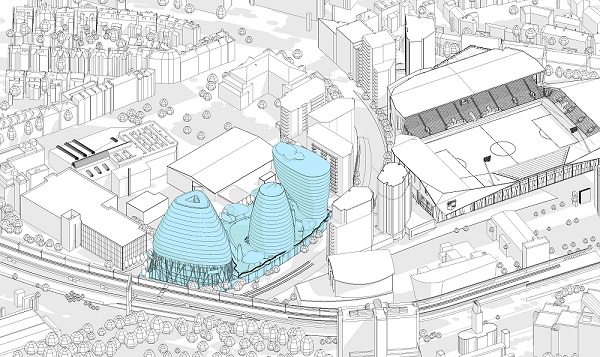 View across M4 from Gunnersbury Cemetery
Cllr Steve Curran, Leader of Hounslow Council, said, "We have an ambitious vision for a strategic regeneration of the Golden Mile, making it fit for 21st Century working and living. We welcome high-profile architects like Will Alsop bringing forward imaginative design and strong investment in our borough."
It is envisaged that the project will bring new jobs, homes and a multi-million pound investment to the Borough, regenerating a key site on the 'Golden Mile' of the Great West Road.
Public Exhibitions of the latest proposals will be held this autumn at the London Museum of Water and Steam between 5pm – 8:30pm on Thursday 29 October and Monday 2nd November.
October 21, 2015