Talk on the 'Syon Abbey Herbal'
The Brentford & Chiswick Local History Society starts its Spring Term of talks on Monday 19 January, at 7.30pm with a lecture entitled 'The Syon Abbey Herbal' at the Chiswick Memorial Club, Bourne Place, W4.
This is an illustrated talk by John Adams of Syon Abbey Research Associates.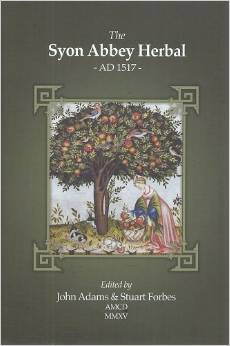 Henry V founded Syon Abbey in February 1415; its 60 sisters and 25 brothers were unusually under the rule of an Abbess.
The Herbal was written by Thomas Betson, the Abbey's last-known librarian, with 700 plant entries and 400 remedies, some lethal! Copies of John's new book on the herbal will be on sale at the special price of £30.
Future Events
Monday 16 February, 7.30pm - The Garden of Hogarth's House, past, present and future an illustrated talk by Val Bott, who has researched the garden from its origin in the 1680s. She is advising on its refurbishment and has helped to develop a scheme which is the subject of an application for Lottery funding.
Monday 16 March, 7.30pm - The Small Mansion at Gunnersbury Park and some of its residents an illustrated talk by David Bush on one of the two mansions built in 1802 when Gunnersbury was sold off as development land. David Bush was recently awarded an MA in Local History from Kingston University and is a member of the committee of the Friends of Gunnersbury Park.
Monday 20 April, 7.30pm - Played in Brentford & Chiswick an illustrated talk by Simon Inglis, highlighting the rich sporting heritage of our part of London. Simon is the author of Played in London: Charting the Heritage of a City at Play, part of the English Heritage series, Played in Britain. Copies of this handsome book will be on sale on the night at a special price of £20.
Monday 18 May, 7.30pm - Annual General Meeting Following the business meeting, James Wisdom will present a short illustrated talk, How to "Read" a Historic Town. This will show how buildings and the landscape are historical sources as much as documents and images, and will provide some background preparation for the summer outing. Journal 24 will be issued at the meeting, and afterwards posted to those members unable to attend.
The Society's talks take place at the Chiswick Memorial Club, Bourne Place, Chiswick W4. Please note that the Club does not open until 7pm.

January 7, 2015