Chiswick School welcomed visitors from China last week as 20 Chinese teachers from a rural province in the centre of the country came to see how a British school functions.
The trip was organised because the Chinese education system is adapting some aspects to replicate the British system. The teachers had been applying for two years to be included in the trip to the UK.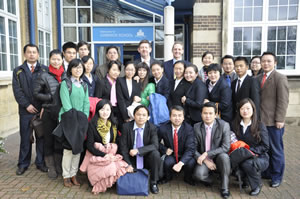 A group of year 8 students, who are being trained in giving tours of the school, showed the visitors around the school's departments, dining hall, computer rooms and the sports hall. The Headteacher Mr Ryan accompanied them and explained, with the help of a translator, the history of the school and how it functions.
Over the course of an hour, they travelled across the school and were able to visit several classrooms. These included a year 7 Opening Minds class, a noisy lesson on working with plastic in the DT block and a lesson about drawing and painting in Art. They also heard presentations from senior staff, through an interpreter, on the curriculum, assessment and teaching and learning. They were particularly interested in the school's Opening Minds programme which challenges year 7 to develop their skills as learners.
One of the visitors commented; "It was interesting to see an English school and how it is different from our own."
A total of 100 teachers from China took part in the trip to the UK.
'We are very honoured to share our practice with our Chinese colleagues' said Mr. Ryan the school's Head teacher. 'Chiswick School has recently been recognised with an award for its international work and this kind of visit enriches us as well as our guests.'
November 29, 2012