Celebrating green space around Brent River and Grand Union Canal
The 40th Anniversary of the Brent River Park will be celebrated on the weekend of 5th and 6th September at Brent Lodge Park, often known as 'Bunny Park'.
The Brent River Park is a 'linear park', joining up the parks, playing fields and other open space alongside the River Brent and the Grand Union Canal from Western Avenue down to the Thames at Brentford (see map)
There will be a display mounted in the Stable Block at Brent Lodge Park from about 11am on the Saturday till 5pm, and then on Sunday from about 10 till 5. Members of the Brent River & Canal Society will be on hand to answer questions and to say hello to old and new friends.
The Mayor of Ealing will be attending from 11am to 12pm on Sunday 6th.
Nic Ferriday, Chair of the Brent River & Canal Society said: "We are delighted that now, 40 years on, the Brent River Park has not just survived but improved. A whole generation of local residents has been able to enjoy the physical and mental health benefits that green open spaces bring. We hope that the council will continue to work with the community so that the Brent River Park can prosper for the next 40 years."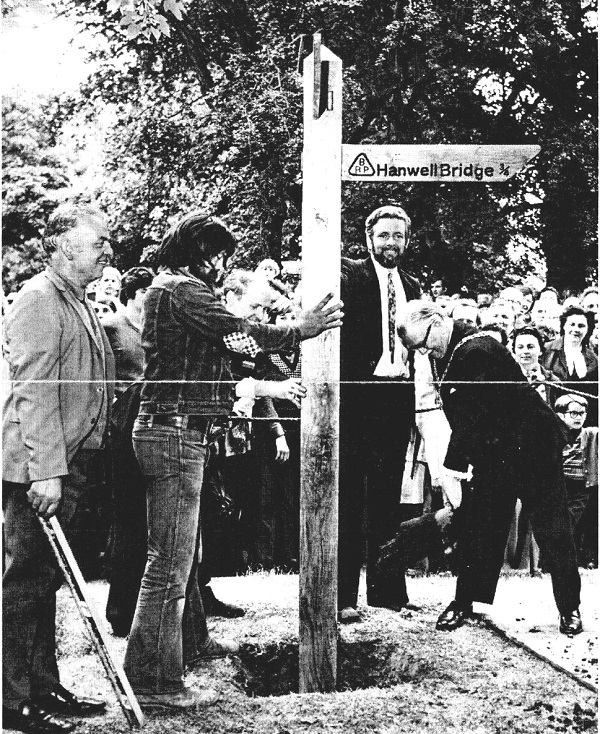 The Mayor of Ealing setting the first signpost 40 years ago
September 2, 2015