Reclaiming our open spaces in memory of Alice Gross.
Related Links
Participate
Comment on this story on the forum
Friends of Boston Manor Park are organising an event on Sunday 7 June celebrating Alice. There will be a walk along the River Brent with local historians followed by a picnic, games, refreshments and musical performances at Boston Manor House. All are welcome, including dogs on leads.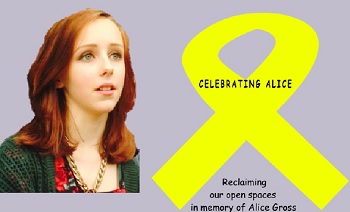 Memorial Walk
11am from The Fox pub, Green Lane Hanwell W7 2PJ
Along the canal to Boston Manor Park approximately 1 hour.
Michael Peacock, Hounslow Heritage Guide and Nic Ferriday, Brent River Society will be sharing their knowledge aong the way and will be joined by Alice's family and friends.
Picnic, live music and refreshments
Midday to 4pm - come and chill with the rest of the amazing community. Bring a picnic and spend the day.
There will be live music from local musicians to entertain you in the walled garden along with refreshments.
Join in the various fun sporting challenges such as tennis, petanque and table tennis. Equipment will be provided if you do not have your own.
In addition to being able to use the great facilities in Boston Manor Park you can even make yourself a free cup of tea.
Boston Manor House will be open from noon.
Plant a Meadow
Throw some wil flower seeds or plant some plugs while supplies last over half term:
Tuesday 26th 11am-12
Wednesday 27th 1-2pm
Friday 28th 2-3pm
Plant Poplar Trees
From midday on Friday 5th June come along and help plant 14 black poplar trees at the bottom of Boston Manor Park. TfL Apprentices and Community Payback will be doing the hard work ready for the community to plant. All tools will be provided.
May 21, 2015