Club Workspace has now been a fixture in Chiswick for just over a month now! London's fastest growing network of coworking locations opened its fourth venue at the Barley Mow Centre last month. The new Club Workspace is situated just off the High Street on Barley Mow Passage, near the church, in a beautiful and quirky, glass-fronted location. The space is great for Brentford's thriving small business community who are looking to take the next step into professional business space.
To ring in the new year, Club Workspace have enabled local residents to get 25% off the first 6 months of Club membership. all you need to do is use this discount code: c56gLP . To activate the code, find the 'Everyday, Everywhere' membership package on the Club Workspace website. After selecting 'choose this package', you'll be taken to a checkout page. Insert the code in the 'discount code' box, and your price will be reduced.
Club Workspace enables Brentford's entrepreneurs, freelancers, startup teams, and independent professionals to work in an attractive, shared environment not far from home. This new business venue is equipped with high-speed wifi, ergonomic seating, and purpose built event space. The team at Club Workspace decided that Chiswick would be the perfect spot for their new location due to West London's innovative small business and creative community.
Club Workspace is sure to bring a lot more businesspeople onto the area, enhancing Brentford & Chiswick's existing SME landscape. At the moment, Club has a membership of 300+ and this figure is set to increase, as Club Workspace Chiswick was one of two new venues to open their doors before Christmas, the other being at Waterloo.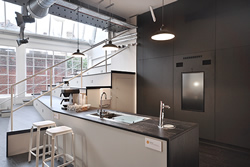 Chiswick's Barley Mow centre is already a thriving business centre, playing host to an array of successful businesses. The presence of Club Workspace at The Barley Mow will compliment this existing community of SMEs. The substantial footfall to Club Workspace, exacerbated by a very busy events calendar (more on this later), can only be a boon to the surrounding hospitality infrastructure - especially to the local coffee and sandwich industry!
Club Workspace venues are all located within Workspace's wider London portfolio of thriving business centres. Amazing business communities such as the Leathermarket in SE1 and Clerkenwell Workshops in Farringdon EC1 play host to Club's entrepreneurial network. Due to this relationship, Club members and Barley Mow tenants will be encouraged to network and interact. This influx of new business-relationships can only augment the amount of positive business activity that takes place on site. Indeed, the juxtaposition of Club Workspace's venues within selected Workspace business hub across London is a key USP for the company.
Coworking - the new noun for locations such as Club Workspace - has gripped London's collective imagination. International coworking authority Deskwanted records that the capital now boasts over 40 coworking locations. Club Workspace are leading the way with five venues in Clerkenwell, London Bridge, Kennington, Bankside and Chiswick.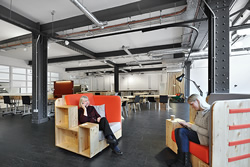 The emergence of shared workspaces such as Club Workspace is demonstrative of the changing habits of London's workforce. In a promising reaction to the economic downturn, the capital's entrepreneurship scene has really taken off. In figures published on the StartUp Britain website this week, 25,481 small businesses have been registered nationwide this November.
With this abundance of small businesses entering the marketplace, working styles need to change. Of course, this posse of grassroots startups and first-time self employees cannot be expected to pick up the tab on studio offices, however working at home can be a lonely experience that stunts the growth of a businessperson's professional network.
Business hubs like Chiswick's new Club Workspace provide the solution. Working at a coworking space gives entrepreneurs an affordable base that connects them to an energetic small business community.
This change in working habits has also been aided by, what the leading lights at Microsoft have dubbed, the consumerisation of IT. In other words: why use your old, corporate IT solutions when your smartphone is markedly more advanced? As technology becomes increasingly smaller and smarter, working habits can become more fluid. Local entrepreneurs, therefore, can run their business from their laptop and mobile from Chiswick's new Club Workspace, rather than being tied to their old PC.
By their own admission, The Barley Mow venue is Club Workspace's most architecturally experimental location yet! To best accommodate West London's famously creative business community, Club Workspace worked with Tilt, a group of architects known for their progressive design ideas. Through this close collaboration, Club Workspace has ensured that the new Barley Mow Club was built with collaboration, fun and usability in mind.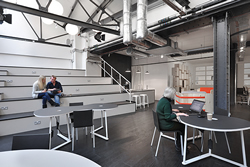 That's why, when you walk into the Chiswick Club Workspace, you will notice organically shaped tables, a mix of seating styles, and a huge staircase that leads to nowhere! The tables at Club Workspace are called 'fruit and nuts.' Rather than having anything to do with a tie-in with Cadburys, they earn their name from being based on the curvaceous and irregular forms that are usually found in nature.
The staircase is the Barley Mow Club Workspace's piece de resistance. As you walk into the location, you will notice that the characteristic design feature lends a playful edge to the creative business location. The purpose of the staircase isn't just to raise a smile, it is dotted with soft-furnishings and plug-points, providing a comfortable 'breakout space' for Club members who like to relax whilst they work.
Club Workspace is all about nurturing small businesses and startups through collaboration and innovation, and they have worked hard to ensure that their design identity embodies that.
On top of the daytime hustle-and-bustle that Club Workspace will bring to Chiswick, its operations also boast an impressive events calendar. At least once a week, Club Workspace hosts useful workshops and networking events. These evening events are open to all-comers. In the past, Club Workspace has worked with Startup Britain, Tech City UK, and Mishcon de Reya to put on high quality free events. So far this year no less than 72 events have been co-hosted with an assortment of hand-picked business and creative experts. 3,000+ entrepreneurs and self-employed types have graced the Club spaces, and the team is looking forward to sharing this excitement with the local businesses of Chiswick. You can keep an eye on their online events calendar for news about upcoming workshops and seminars.
The team at Club Workspace have already started integrating with the local business community, and look forward to collaborating with the local tech and media cluster alongside TVTriangle. If any readers have ideas about how Club Workspace could further their involvement with Brentford's local small business community, please get in touch:
You can email Club using info@clubworkspace.co.uk
They also have an active presence on Twitter and would happily answer any questions you have at @clubworkspace.
Alternatively, browse their website to learn more about the rest of their London network.
There will always be a member of the Club team on-site, so feel free to turn up at Club Workspace when you're next in Chiswick if you are interested in becoming a member, have any uestions to ask or would simply like to satisfy your curiosity.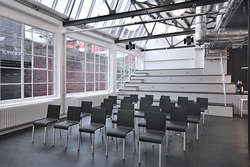 Advertisement