In an interview, Sam Harrison talks about the 5:2 phenomenon and explains his own personal reasons for wanting low calorie options on his menus.
" We've all heard a lot about the 5:2 diet but what is it?
"The 5:2 diet (or Fast Diet as it's otherwise known) is based on intermittent fasting – so five days of eating normally or fairly sensibly and two days fasting. This isn't fasting as you would normally think of it though - as a man you can consume up to 600 calories and a woman up to 500 calories. When you break that down there's actually quite a lot you can eat. By fasting two days a week out of seven, for someone like me, it's a nice discipline.
"What are the benefits of the diet?
"For the majority of us who work in this industry, food and alcohol is a big part of our lives. With most diets you have to be restrictive on what you eat which is pretty much impossible for me because I'm constantly tasting new dishes or eating out at other restaurants - for research purposes, of course! I've tried several diets over the years and found when I did the 5:2 diet, it really worked for me - you lose weight, you have more energy and there are long-term benefits too.

"Why did you decide to design a menu around it?
"Being someone who eats out regularly but enjoys the benefits of the 5:2 diet, I found the lack of low calorie options frustrating when dining out so earlier this year my Head Chef, Mark Baines, and I decided to put together a special 5:2 menu. I wanted to show people that you can still enjoy restaurant quality food but have healthy, low calorie options too. We had a lot of fun with the menu back in January and February this year and have decided to bring it back as a summer special. We do hope people will come and try the menu over the next two months."

SAMPLE SUMMER SET MENU BASED ON 5:2 DIET RECIPES
TWO COURSES - £13.50 / THREE COURSES - £16.50
Available 12pm-3pm Monday-Friday & all evening Sunday-Thursday from 6.30pm
Dishes available a la carte lunchtime Saturday & Sunday and Friday & Saturday nights

Shaved Fennel, Cucumber & Radish Salad, Citrus Dressing (52 calories)
Salmon Ceviche, Tomato, Chilli & Coriander (195 calories)
Warm Chicken Livers, Water Chestnuts, Chicory & Balsamic (100 calories)
Savoy Cabbage, Lentil & Caramelised Onion Wraps, Yoghurt (260 calories)
Baked Mackerel, Green Beans, Broccoli & Black Olives (300 calories)
Lo-Lo Pork Meatballs, Cavolo Nero (264 calories)
Banana Pancakes (80 calories)
Passion Fruit Panna Cotta (150 calories)
Champagne Granita, Strawberries (86 calories)
5:2 menu and dishes available from Monday 7th July – Sunday 31st August 2014

Menu subject to change. Calories listed are guidelines only, please be aware they cannot be 100% guaranteed.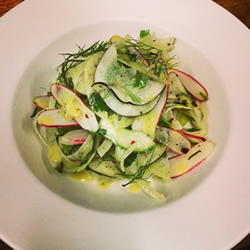 Advertisement