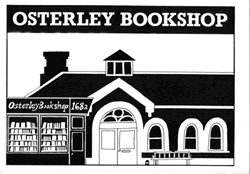 Easy parking.
Only 10 mins away by car. Or take the bus so you can read your purchases on the way home.
Seven days 9:30-5:30.
Situated in the old railway station, 168A Thornbury Road,
Osterley, TW7 4QE.
Tel: 020 8560 6206
Books – you want them, we've got them. First come, first served, first editions, collectibles, cookery, coronations; transport, topiary, topography; art, Assyria, aardvarks; science, science fiction, pulp fiction, fiction fiction; banned books, books on books, biographies; history, hair styles, horses, hieroglyphics, hydroponics; annuals – we don't only sell annuals, we have an Annual Sale from 1st – 30th September. All books under £8 (that's probably 70% of our stock) will be half price.
First come, first served on the 1st is fine, but, if you can't make the first day we've 1000s of books – enough for all, any time you visit … and after the 30th? We begin all over again, restocking for winter's hunkering down (with normal, but very reasonable, prices resumed).

For non-bookists, we've a great range of unusual greetings cards and a tiny room stuffed full of curios, curtains, china; slates skates, Sheffield plate, pictures, pottery; lampshades, linen … but no Limoges (at the moment).

We've been featured on 'The Robert Elms Show' BBC Radio London; as The Bookshop in the film 'The Buddha of Suburbia'; and in the Desi Movie "Strangers", featuring Nandana Sen. Despite being two minutes from Robert Adams' masterpiece Osterley House, the Guardian newspaper described us as 'The Jewel in Osterley's Crown'. For further raves (thank you reviewers) see www.penpushermagazine.co.uk/magazine/extracts/article/90/ or www.qype.co.uk/place/171157-Osterley-Bookshop-London

Easy parking. Only 10 mins by car and 15 by bus from Brentford and Chiswick and 15 mins by car and 20 by bus from Ealing. Seven days 9.30-5-30. Situated in the old railway station, 168A Thornbury Road, Osterley, TW7 4QE. Tel: 020 8560 6206
Advertisement