The way to your dream figure

The way to your dream figure
HYPOXI-Method ® directly treats the problem areas with the use of gentle exercise, a specific activation of the metabolism combined with nutritional advice. This perfect harmony allows you to model your desired figure. Success with HYPOXI ® is noticeable after only a few sessions with visible results.
Why you cannot achieve this with a diet
A beautiful properly proportionate figure cannot be achieved with a diet because the body will burn fat from the area where it's easy and fast but will only burn a little in the problem areas.
Fat reduction works best!
For annoying and persistent fat and cellulite to disappear, they must be in the true sense of the phrase 'put under pressure'. This happens when HYPOXI® by a special Vacuum and Pressure therapy manipulates the targeted area. Unnecessary fat can be dissolved and with moderate training this then provides the conversion of fat into energy.
Circulation promotes fat reduction
Our body at first will convert fat into energy from parts of the body that the blood can easily flow through then the enriched blood can be transported and used as fuel to burn the energy. Conclusion: The better blood circulation in problem zones during training the easier the fat can be reduced.
The 3 pillars of the HYPOXI-Method ®
HYPOXI ® is an innovative figure forming method that works without diet and consists of the following:
• Fat Burning Exercise
• Vacuum Therapy (similar to cupping) and Pressure treatment (similar to compression therapy)
• Nutrition
New skin elasticity
HYPOXI ® is the ideal method for targeted improvement to the skin. Through targeted exposure to the therapy, the connective tissue is streamlined and strengthened.
Everything except diet!
The HYPOXI-Method ® requires no strict dieting! Advice and guidance with regards to a healthy and balanced nutritional plan are an integral part of the HYPOXI ®-Concept.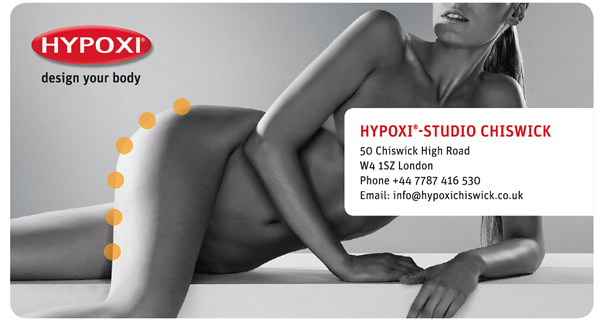 HYPOXI ®-STUDIO CHISWICK
50 Chiswick High Road
W4 1SZ London
Phone +44 7787 416 530
Email: info@hypoxichiswick.co.uk
Advertisement

August 12, 2015