Runway resurfacing is an essential maintenance task that comes round roughly once every decade. During 2013, resurfacing of the southern runway will take place. Because Heathrow is so busy, this work needs to takes place at night.
That will mean changes to the pattern of night-time flights. From 3 March to 31 October, most aircraft flying after 10.30pm and before 6am will use the northern runway.
Since Heathrow has relatively few night flights, the changes won't affect many aircraft – mostly arrivals after 4.30am. There will be no additional night flights.
What does this mean for you?
If you live under the flight path for the northern runway, you'll experience more night-time aircraft noise than usual
If you live under the flight path for the southern runway, you'll experience less.
The maps below show the areas most affected.
The switch in noise levels occurs because we normally use both runways equally at night. For two weeks, we use one runway for arrivals and the other for departures. The following weeks we swap and use the other runway. Runway alternation, as we call it, can happen only when both runways are open.
This is what's happening to night-time runway alternation during the eight months of resurfacing:
For five nights a week from Sunday evening to Friday morning:
all flights will use the northern runway between 10.30pm and 6am
For two nights a week from Friday evening to Sunday morning:
runway alternation will operate as normal: southern runway one week, northern the next week
Daytime flights are not affected.
Runway alternation helps us manage aircraft noise for the good of the entire community. Suspending night-time alternation for eight months is not ideal, but it is unavoidable. To those of our neighbours who are likely to experience more noise than usual, we'd like to apologise. It may help to know that we'll be resurfacing the northern runway during 2014 and the north-south switch will be reversed.
Night-time flight paths during 2013 runway resurfacing
1. when wind blows from the west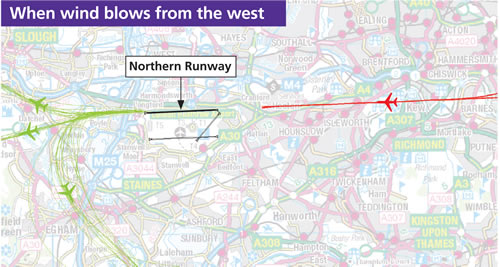 Arriving aircraft fly in from the direction of London (red line)
Departing aircraft take off towards the west (green lines)
Cranford, Hounslow West, Syon, Kew, Chiswick, Barnes and Fulham
2. when wind blows from the east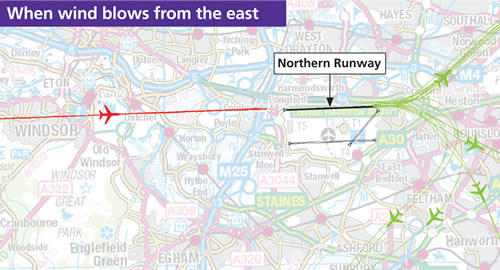 Arriving aircraft fly in from the direction of Windsor (red line)
Departing aircraft take off towards the east (green lines)
Colnbrook, Horton, Datchet, Windsor and Dedworth
To find out more:
See: www.heathrowairport.com/noise
Call: Freephone 0800 344 844
Email: communityrelations@heathrow.com