According to a recent report by Visit England* , domestic tourism now accounts for over £1.7m of the UK's leisure economy, with nearly 9 million UK holidays made in March this year alone by 'staycationers'. Offering a variety of local activities and easy transport connections in and around London, Bellway's WestSide development in the heart of Brentford, West London, creates the perfect base for homeowners looking to enjoy their time off without travelling far.
Brentford is perfectly situated between several desirable boroughs, making it an ideal location for exploring all the capital has to offer. The attractive neighbourhood of Chiswick, with its wide High Road and bustling café culture, is just over a mile to the east, while cosmopolitan Ealing, home to The Broadway Shopping Centre, is to the north. Each borough is ideal for filling your staycation with entertaining day trips and visits.
Zoe Dobbs, Sales Manager at Bellway Homes North London comments, "Brentford's appeal comes from its vast array of leisure facilities, including spas, museums, abundant green spaces and nightlife. The development also benefits from a number of charming boroughs in the surrounding area, including Chiswick and Kew. This creates a greater choice of entertainment with minimal travel time, so it's not surprising that WestSide has been popular among staycationers. Similarly, the River Thames is less than two miles away and plays host to an arrangement of events throughout the year."
WestSide comprises one, two and three bedroom apartments as well as three and four bedroom duplexes. As part of the continued regeneration of the area, WestSide will provide three contemporary buildings, due for completion in 2016.
Residents can also escape the hustle and bustle of the city if they need a change of pace, with Kew Village located just over the Kew Bridge. This quaint London village is the gateway to Kew's famous Royal Botanic Gardens and also offers an 18 th Century horseshoe-shaped centre dotted with cafés, restaurants and specialist shops.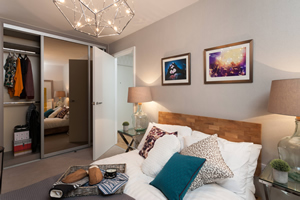 The WestSide development is also conveniently close to the A4 and M4, whilst both Kew Bridge and Brentford train stations, with services to Clapham Junction and London Waterloo, are equidistant from the apartments. Northfields and Boston Manor tube stations (Piccadilly Line) are also within walking distance of the development and provide onward services to the city in less than 30 minutes.
While there is much to entertain in the local area, residents will always enjoy coming home to the sanctuary of their new home. WestSide offers all the benefits of contemporary city apartment living, with courtyard gardens and modern interiors. The majority of the apartments have their own private outdoor space in the form of a balcony or terrace and convenient underground parking , while the sleek open plan kitchen / living / dining areas are fitted with a range of integrated appliances.
Master bedrooms are a comfortable retreat with fitted wardrobes and an en-suite bathroom . The apartments provide eco-friendly technology and energy saving features, including underfloor heating, meaning lower utility bills for residents.
WestSide is part of a comprehensive redevelopment of the former Alfa Laval complex on the corner of Great West Road and Ealing Road, in Brentford . There are 137 apartments available in a wide selection of layouts, arranged over three apartment buildings. The development will also include two brand new hotels, a car showroom and 4,680 sqm of commercial office space.
Guide prices start from £334,995. To register your interest for WestSide, please telephone the sales team on 0845 676 0255 or visit www.bellway.co.uk/new-homes/north-london/westside .

* www.visitengland.com/sites/default/files/gbts_tables_march_full_report.pdf
Advertisement