Try this new and exciting watersport on the Thames
Related Links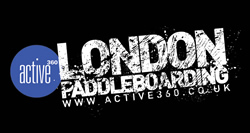 For more information , pictures and FAQ's see the website at
To make a booking contact
info@active360.co.uk
020 3393 5360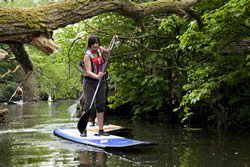 Feeling adventurous and looking for something different? Stay ahead of the game and experience a new, exciting and fun watersport on the Thames: Stand Up Paddleboarding (SUP) has arrived.
SUP, which originated from Hawaii in the 60's, is enjoying a global resurgence, and kayaking canoe coach, Paul Hyman, has launched this adventure sport on the River Thames from his company base in Chiswick. It's already fast-growing and proving popular with people of all ages. Active360 is dedicated to developing all aspects of the sport in London and creating many opportunities to participate.
SUP is good for your health, affordable and easy to learn ! You don't have to be a good swimmer or have previous knowledge. Paul and his team provide the equipment and can teach you the basics in an hour. Whether you're an individual , with the family, or in a group of friends, you will have a fantastic and energizing experience.
Skillsets for everyone: those with a competitive nature can develop their skills to high standards to include racing or surfing. People who just want something relaxing, different and fun can paddle a variety of trails (through Fulham, Putney, Hammersmith, Chiswick Kew, Twickenham & Teddington – will get a truly unique perspective on London's landmarks.
Health benefits: SUP is a great way to keep fit, improve balance and strength and build core muscles. For those who find indoor or repetitive workouts a chore, enjoy being outdoors and the variety of scenic routes.
How far can you go ? Stand up paddling is a surprisingly easy way to travel. Last summer Active360 friend and adventurer Dave Cornthwaite paddled the entire 2,600 miles of the Mississippi river . A 8-10 mile paddle with the tides is within the average beginners capability. The Active360 team are planning a 100km trip in Arctic waters for 2013.
Future SUP Events : a full calendar of a variety of events is listed on www.active360.co.uk . They include :
2 June – taster sessions at Brentford Lock Jubilee celebration
3 June – paddle trail Kew Bridge to Richmond
4 June – paddle from Kew to Twickenham and back
8 June – Evening taster sessions at Eel Pie Island
9 June - Blue Mile race event – Twickenham - with taster sessions & races for beginners http://register.thebluemile.org/ps/event/TwickenhamAliveBlueMile
22 June – Paddle trail Kew – Richmond
23 June – Taster sessions at Bishops Park and group paddle from Fulham to Kew
19 August – Taster sessions at Party on the Pier in Chiswick and a paddle from Chiswick to Kew
July - August - Kids summer camp on the canal at Brentford Lock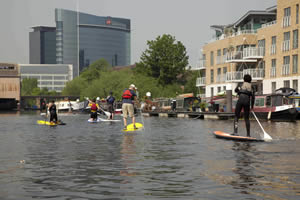 Organising a private event? Dare to be different & give your guests something original - and a party to remember. Whether it's a corporate event to impress, or something to celebrate with family and friends, Paul will tailor something specially for you.
Recent successes include : Hen parties - Corporate events - Family groups – Birthday parties - Children's parties - School groups
Paddleboard Ergometer
Active360 have imported the World's first ever paddleboard machine to the UK It works like a rowing machine – but you stand up and paddle. Like SUP on water it gives a great core and whole body workout and is endorsed by the current UK champion Ryan James. . Coming to gyms and health clubs near you soon.
Press coverage: Sunday Times 27 May 2012 report Gavin Brett said " Resistance is futile, SUP is taking hold. It's easier and cheaper than it looks, it's cheap and it's healthy. And there's no need to traipse to the coast to have a go……..It's Unanimous : We're hooked. If my feet don't drop off I'll be back"
Price List:
Children's parties £25 per person for 2 hours for groups of 6. £20 per additional child up to 24 children
2 Hour Thames Trips for £50 including all equipment and coaching.
I hour group lesson including equipment - £25
Board hire – for your own independent adventures - £35 per day
We can organize custom made trips for your group of friends, colleagues or family at very affordable prices.
Advertisement Promotion
11th May 2012