Over a quarter of sales in TW8 so far this year in riverside developments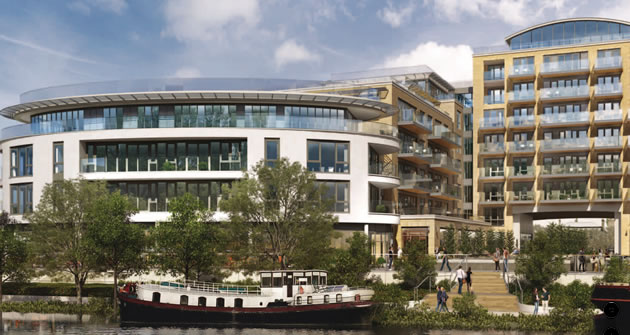 New data showing the continued predominance of high-priced riverside flats in Brentford property sales has been released as the local MP called for the Government to do something about London's housing crisis.
There have been 120 residential sales reported so far this year in the Brentford area at an average price of £590,601.
Over a quarter of these sales are in developments at 8 Kew Bridge Road. If you exclude these sales then the average drops by over £100,000.
The most expensive property sold so far his year is a flat in the Quayside House block on Kew Bridge Road which sold for £1,669,950. There is still interest in family properties in the area with a four bedroom detached house, Aldermaston, Boston Gardens, selling for £1,575,000.
The top 25 prices paid so far this year are for homes either at 8 Kew Bridge Road or Boston Gardens.
This week Brentford and Isleworth MP Ruth Cadbury raised the issue of unaffordable house prices in the constituency in the borough saying, "The average rent in London is now £1500 per month and the average sale price of a property in Brentford and Isleworth is £767,845, much higher than the national average".
She claimed that people earning close to £100,000 a year cannot afford to own a home in London.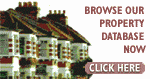 Brentford property prices rose by 41.4% in the first quarter of 2016 compared to the same period in the previous year but this had more to do with the kind of properties being sold rather than an across the board rise in prices.
The Land Registry's March data for London shows a 13.9% rise over the last year to £534,785. This is higher than any other part of the country and makes London's average twice that of any other region including the South East.
Annual growth of 6.7% in March brings the average house price in England and Wales to £189,901.
Over the last year prices in the London Borough of Hounslow rose by 14.7% to £415,267.
The latest reported sales are given in the table below.
Brentford TW8 Property Prices - January to March 2016

Date
Address
Post Code

Price

21/04/2016
Apartment 117 8, Kew Bridge Road
TW8 0FG

645,000

15/04/2016
Flat 6 Rivers House, Aitman Drive
TW8 0ES

597,521

06/04/2016
Apartment 41 Quayside House, 8, Kew Bridge Road
TW8 0HT

288,420

04/04/2016
Apartment 88 Quayside House, 8, Kew Bridge Road
TW8 0HT

859,950

01/04/2016
Apartment 91 Quayside House, 8, Kew Bridge Road
TW8 0HT

1,000,000

01/04/2016
Apartment 89 8, Kew Bridge Road
TW8 0FD

740,000

31/03/2016
Apartment 87 Quayside House, 8, Kew Bridge Road
TW8 0HT

884,950

31/03/2016
141, Boston Manor Road
TW8 9LE

780,000

31/03/2016
50 Dorey House, High Street
TW8 8LD

585,500

31/03/2016
54, Enfield Road
TW8 9PB

518,000

31/03/2016
22, Holland Gardens
TW8 0BE

500,000

31/03/2016
Apartment 56 2, Point Wharf Lane
TW8 0EA

490,000

31/03/2016
Flat 8 Mill Cross Court, Windmill Road
TW8 9NA

465,000

31/03/2016
110, Holland Gardens
TW8 0BH

452,500

31/03/2016
Apartment 203 Laval House, Ealing Road
TW8 0GL

380,000

31/03/2016
35C, Hamilton Road
TW8 0QE

370,000

31/03/2016
Apartment 111 Simmonds House, Clayponds Lane
TW8 0GS

350,000

31/03/2016
Flat 7 Middlesex Court, 26, Glenhurst Road
TW8 0FE

270,000

31/03/2016
Apartment 46 Quayside House, 8, Kew Bridge Road
TW8 0HT

236,940

30/03/2016
57, Boston Gardens
TW8 9LR

937,935

30/03/2016
Apartment 45 8, Kew Bridge Road
TW8 0FD

760,000

30/03/2016
99, Holland Gardens
TW8 0BH

592,500

30/03/2016
Apartment 303 Westgate House, Ealing Road
TW8 0GN

535,000

30/03/2016
Flat 25 Ferry Quays, 6, Ferry Lane
TW8 0BP

466,000

29/03/2016
155, Brent Lea
TW8 8HY

341,600

24/03/2016
Apartment 86 Quayside House, 8, Kew Bridge Road
TW8 0HT

1,570,000

24/03/2016
8, Clements Place
TW8 9PS

615,000

24/03/2016
Apartment 22 2, Point Wharf Lane
TW8 0EA

536,000

24/03/2016
100, Holland Gardens
TW8 0BH

435,000

24/03/2016
Flat 21 Bridgeman House, Pump House Crescent
TW8 0FX

430,000

24/03/2016
1 207 - 208, High Street
TW8 8AH

245,000

23/03/2016
Apartment 45 Quayside House, 8, Kew Bridge Road
TW8 0HT

236,940

22/03/2016
27 Aitons House, Pump House Crescent
TW8 0FW

645,000

22/03/2016
64, Holland Gardens
TW8 0BF

620,000

22/03/2016
71 Numa Court, Justin Close
TW8 8QF

490,000

22/03/2016
Apartment 206 Jantzen House, Ealing Road
TW8 0GF

136,500

21/03/2016
Apartment 95 Quayside House, 8, Kew Bridge Road
TW8 0HT

1,019,950

21/03/2016
Apartment 40 Quayside House, 8, Kew Bridge Road
TW8 0HT

236,940

18/03/2016
Apartment 78 Quayside House, 8, Kew Bridge Road
TW8 0HT

1,490,000

18/03/2016
Flat 28 Bridgeman House, Pump House Crescent
TW8 0FX

725,000

18/03/2016
1301 Kew Eye Apartments, Ealing Road
TW8 0GA

665,000

18/03/2016
Flat 53 Lighterage Court, High Street
TW8 0FT

620,000

18/03/2016
Flat 37 Braemar Court, 83, Brook Road South
TW8 0NA

260,000

17/03/2016
182, Boston Manor Road
TW8 9LL

765,000

16/03/2016
Apartment 96 Quayside House, 8, Kew Bridge Road
TW8 0HT

939,950

16/03/2016
Apartment 61 2, Point Wharf Lane
TW8 0EA

430,000

14/03/2016
Apartment 12 1, Point Wharf Lane
TW8 0DD

560,000

11/03/2016
Apartment 80 Quayside House, 8, Kew Bridge Road
TW8 0HT

879,950

11/03/2016
Lower Flat 51, Mafeking Avenue
TW8 0NL

330,000

10/03/2016
75, Carville Crescent
TW8 9RA

525,000

08/03/2016
Apartment 75 Quayside House, 8, Kew Bridge Road
TW8 0HT

899,950

04/03/2016
144, Brent Lea
TW8 8HY

320,000

02/03/2016
Apartment 83 Quayside House, 8, Kew Bridge Road
TW8 0HT

846,133

01/03/2016
Apartment 85 Quayside House, 8, Kew Bridge Road
TW8 0HT

1,504,950

01/03/2016
58, Enfield Road
TW8 9PB

545,000

01/03/2016
65, Field Lane
TW8 8NA

325,000

29/02/2016
52, Albany Road
TW8 0NF

454,000

29/02/2016
Apartment 401 Gilbert House, Ealing Road
TW8 0GH

420,000

26/02/2016
11, New Road
TW8 0NX

455,000

26/02/2016
Apartment 43 2, Point Wharf Lane
TW8 0EA

365,000

25/02/2016
Apartment 84 Quayside House, 8, Kew Bridge Road
TW8 0HT

1,669,950

25/02/2016
Apartment 90 Quayside House, 8, Kew Bridge Road
TW8 0HT

874,339

24/02/2016
Apartment 34 Quayside House, 8, Kew Bridge Road
TW8 0HT

288,420

23/02/2016
Apartment 89 Quayside House, 8, Kew Bridge Road
TW8 0HT

950,000

23/02/2016
Flat 30 Moorings House, Tallow Road
TW8 8EL

455,000

22/02/2016
Apartment 82 Quayside House, 8, Kew Bridge Road
TW8 0HT

984,950

19/02/2016
Apartment 202 Burgoyne House, Ealing Road
TW8 0GB

345,000

18/02/2016
7, Layton Road
TW8 0QJ

532,000

18/02/2016
Apartment 38 Quayside House, 8, Kew Bridge Road
TW8 0HT

236,940

18/02/2016
Warehouse, York Parade
TW8 9AA

110,000

17/02/2016
Flat A 26, Adelaide Terrace
TW8 9PQ

350,000

16/02/2016
Flat 20 Malthouse Court, High Street
TW8 0FR

438,000

16/02/2016
32, Manor Vale
TW8 9JP

360,000

15/02/2016
Apartment 21 Myrtle Court, Baltic Avenue
TW8 0FQ

439,995

12/02/2016
100, Ealing Road
TW8 0LD

420,000

11/02/2016
Apartment 81 Quayside House, 8, Kew Bridge Road
TW8 0HT

940,153

11/02/2016
Apartment 79 Quayside House, 8, Kew Bridge Road
TW8 0HT

874,950

11/02/2016
Apartment 72 Quayside House, 8, Kew Bridge Road
TW8 0HT

846,133

11/02/2016
Apartment 73 Quayside House, 8, Kew Bridge Road
TW8 0HT

625,000

09/02/2016
7 Dorey House, High Street
TW8 8LD

590,000

05/02/2016
Flat 85 Block B Paragon Site, Boston Park Road
TW8 9RN

255,000

02/02/2016
Apartment 77 Quayside House, 8, Kew Bridge Road
TW8 0HT

1,435,000

01/02/2016
Apartment 44 Myrtle Court, Baltic Avenue
TW8 0FQ

645,000

01/02/2016
27 Francis House, Pump House Crescent
TW8 0HL

645,000

01/02/2016
Apartment 2 4, Town Meadow
TW8 0BX

438,000

29/01/2016
Apartment 35 Myrtle Court, Baltic Avenue
TW8 0FQ

479,995

29/01/2016
Apartment 13 Myrtle Court, Baltic Avenue
TW8 0FQ

420,000

29/01/2016
Apartment 18 Myrtle Court, Baltic Avenue
TW8 0FQ

304,995

28/01/2016
Apartment 9 Myrtle Court, Baltic Avenue
TW8 0FQ

309,995

26/01/2016
Apartment 34 Myrtle Court, Baltic Avenue
TW8 0FQ

574,995

22/01/2016
11, Windmill Road
TW8 0QD

610,000

22/01/2016
Apartment 20 Myrtle Court, Baltic Avenue
TW8 0FQ

440,000

22/01/2016
Apartment 601 Laval House, Ealing Road
TW8 0GQ

355,000

22/01/2016
Apartment 15 Myrtle Court, Baltic Avenue
TW8 0FQ

320,000

21/01/2016
Apartment 76 Quayside House, 8, Kew Bridge Road
TW8 0HT

1,550,000

18/01/2016
Apartment 33 Myrtle Court, Baltic Avenue
TW8 0FQ

440,000

18/01/2016
Apartment 14 Myrtle Court, Baltic Avenue
TW8 0FQ

319,995

18/01/2016
Apartment 104 Wallis House, Great West Road
TW8 0HE

285,000

15/01/2016
Apartment 4 Myrtle Court, Baltic Avenue
TW8 0FQ

624,995

15/01/2016
Apartment 1 Myrtle Court, Baltic Avenue
TW8 0FQ

609,995

15/01/2016
50, Brook Road South
TW8 0PH

595,000

15/01/2016
Ground Floor Flat 95, Whitestile Road
TW8 9NR

425,000

15/01/2016
Apartment 39 8, Kew Bridge Road
TW8 0FD

350,000

15/01/2016
Apartment 27 Myrtle Court, Baltic Avenue
TW8 0FQ

309,995

14/01/2016
18, Market Place
TW8 8EQ

840,000

12/01/2016
98, London Road
TW8 8JJ

370,000

12/01/2016
6 Clifden House, Windmill Road
TW8 0PD

320,000

11/01/2016
Aldermaston, Boston Gardens
TW8 9LW

1,575,000

11/01/2016
Apartment 58 8, Kew Bridge Road
TW8 0FD

1,475,000

11/01/2016
11, Boston Gardens
TW8 9LS

900,000

08/01/2016
48, Brook Road South
TW8 0PH

519,995

08/01/2016
15 Masson House, Pump House Crescent
TW8 0HN

430,000

08/01/2016
33, Monmouth Grove
TW8 9QN

325,000

08/01/2016
Apartment 24 Myrtle Court, Baltic Avenue
TW8 0FQ

310,700

08/01/2016
50 Charlton House, Albany Road
TW8 0NG

160,000

04/01/2016
21, Whitestile Road
TW8 9NR

783,000

04/01/2016
Apartment 3 Myrtle Court, Baltic Avenue
TW8 0FQ

625,000

04/01/2016
Apartment 46 Myrtle Court, Baltic Avenue
TW8 0FQ

620,000

04/01/2016
Flat 9 Corsell House, Tallow Road
TW8 8EE

526,500

04/01/2016
32 Masson House, Pump House Crescent
TW8 0HN

430,000
June 17, 2016