Average down due to strong sales at Golden Mile House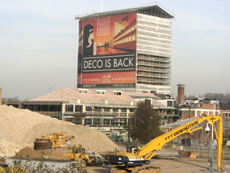 The average price of a property sold in Brentford during May was £247,391. This was well down on previous averages but this is not necessarily a sign of a week market as a significant proportion of the sales during the month were lower priced units at Golden Mile House.
The average house price for England and Wales in May was £165,314, down by 0.2% from the previous month and up by 8.2% compared with the previous year, and the average house price for London was £338,708, up by 14.2% compared with the same time last year.
The latest reported sales are given in the table below.
Where do I live? Brentford TW8 postcodes are divided into three sectors, TW8 0xx, TW8 8xx and TW8 9xx. Broadly speaking, TW8 0xx covers areas east of Boston Manor Road, TW8 8xx goes west of Boston Manor Road, whilst TW8 9xx covers the areas to the north of the A4.
Brentford Property Prices - May 2010
| | | |
| --- | --- | --- |
| Address | Price (£) | Deed Date |
| Nero Court, 6, Justin Close, TW8 8QA | 240,000 | 06/05/2010 |
| 91, Manor Vale, TW8 9JN | 190,000 | 07/05/2010 |
| 50, Whitestile Road, TW8 9NJ | 467,500 | 07/05/2010 |
| 20, Mafeking Avenue, TW8 0NH | 205,000 | 13/05/2010 |
| 36a, Mafeking Avenue, TW8 0NH | 162,499 | 14/05/2010 |
| Golden Mile House, Apartment 107, Clayponds Lane, TW8 0GU | 216,000 | 14/05/2010 |
| 28, York Road, TW8 0QP | 365,000 | 14/05/2010 |
| 27, Layton Road, TW8 0QJ | 195,000 | 14/05/2010 |
| Servius Court, 42, 17, Augustus Close, TW8 8QZ | 150,000 | 14/05/2010 |
| Jantzen House, Apartment 301, Ealing Road, TW8 0GF | 110,800 | 14/05/2010 |
| Golden Mile House, Apartment G01, Clayponds Lane, TW8 0GU | 210,000 | 19/05/2010 |
| Golden Mile House, Apartment 101, Clayponds Lane, TW8 0GU | 242,000 | 20/05/2010 |
| 26, Hawthorn Road, TW8 8PA | 235,000 | 20/05/2010 |
| Golden Mile House, Apartment 501, Clayponds Lane, TW8 0GU | 370,000 | 21/05/2010 |
| 3, Ferry Lane, TW8 0AW | 263,000 | 21/05/2010 |
| Golden Mile House, Apartment 407, Clayponds Lane, TW8 0GU | 230,000 | 21/05/2010 |
| Golden Mile House, Apartment 605, Clayponds Lane, TW8 0GU | 270,000 | 21/05/2010 |
| Golden Mile House, Apartment 307, Clayponds Lane, TW8 0GU | 220,000 | 21/05/2010 |
| Golden Mile House, Apartment G04, Clayponds Lane, TW8 0GU | 270,000 | 21/05/2010 |
| Wallis House, Apartment Lg19, Great West Quarter, TW8 0HD | 215,000 | 21/05/2010 |
| Golden Mile House, Apartment 204, Clayponds Lane, TW8 0GU | 275,000 | 26/05/2010 |
| Golden Mile House, Apartment 304, Clayponds Lane, TW8 0GU | 280,000 | 26/05/2010 |
| 27, Top Floor Flat, Layton Road, TW8 0QJ | 173,500 | 27/05/2010 |
| Golden Mile House, Apartment 302, Clayponds Lane, TW8 0GU | 300,000 | 27/05/2010 |
| Golden Mile House, Apartment 306, Clayponds Lane, TW8 0GU | 310,000 | 27/05/2010 |
| Golden Mile House, Apartment 406, Clayponds Lane, TW8 0GU | 331,820 | 27/05/2010 |
| Golden Mile House, Apartment 301, Clayponds Lane, TW8 0GU | 248,000 | 27/05/2010 |
| Golden Mile House, Apartment 601, Clayponds Lane, TW8 0GU | 370,000 | 27/05/2010 |
| Golden Mile House, Apartment 207, Clayponds Lane, TW8 0GU | 210,000 | 27/05/2010 |
| Golden Mile House, Apartment 604, Clayponds Lane, TW8 0GU | 230,000 | 27/05/2010 |
| Maurice Court, 20, Augustus Close, TW8 8QY | 250,000 | 27/05/2010 |
| Gilbert House, Apartment 506, Ealing Road, TW8 0GH | 176,477 | 28/05/2010 |
| Gilbert House, Apartment 306, Ealing Road, TW8 0GH | 176,477 | 28/05/2010 |
| Golden Mile House, Apartment 605, Clayponds Lane, TW8 0GU | 320,000 | 28/05/2010 |
| Gilbert House, Apartment 406, Ealing Road, TW8 0GH | 176,477 | 28/05/2010 |
| 28, Hamilton Road, TW8 0QE | 440,000 | 28/05/2010 |
| Rivers House, Flat 21, Aitman Drive, TW8 0ES | 270,000 | 28/05/2010 |
| Gilbert House, Apartment 401, Ealing Road, TW8 0GH | 191,699 | 28/05/2010 |
| Gilbert House, Apartment 501, Ealing Road, TW8 0GH | 191,699 | 28/05/2010 |
| Gilbert House, Apartment 402, Ealing Road, TW8 0GH | 165,775 | 28/05/2010 |
| Gilbert House, Apartment 301, Ealing Road, TW8 0GH | 191,699 | 28/05/2010 |
| Mill Cross Court, Flat 2, Windmill Road, TW8 9NA | 285,000 | 28/05/2010 |
January 14, 2011