UBC's two-floor business centre is providing affordable, flexible workspace



The Mille
1000 Great West Road Brentford, West London
0800 169 9822
www.ubcuk.com


The London Borough of Hounslow has long been recognised as a thriving business hub, thanks in part to its West London location and major transport networks. The borough is already home to a high proportion of marketing, telecommunications and media firms, which now seems set to grow following the announcement of Hounslow's new Creative Enterprise Zone status.

Following its initial bid early last year, Hounslow Council has successfully become one of London's first Creative Enterprise Zones (CEZ), out of 25 bid applications.

The result means that Hounslow is now actively focusing on attracting and supporting creative freelancers and businesses based within the borough, in order to encourage the creative industry to grow while boosting jobs and training opportunities for local people.

Hounslow's newly won funding will enable it to deliver ambitious plans:

• Strengthen networks, engage multi-national local businesses such as Sky, Disney and Paramount to work closer with local creative and digital companies to boost opportunities.

• Deliver specialist skills training and freelance and SME business support to ensure local residents, especially young people, and students from the University of West London, have a clear route and access to opportunities in the creative sector.

• Build on London's hub for TV and Film production by unlocking new affordable production and studio space.

The 6 winning zones were selected for their commitment to create more jobs for local people, while increasing affordable workspace.

However, Hounslow is no stranger to affordable workspace.

UBC's two-floor business centre in Brentford, located within the London Borough of Hounslow along Great West Road, has been providing affordable, flexible workspace to small and medium-sized businesses for a number of years already.

In 2018 UBC completed a 6-month refurbishment project that not only transformed the existing facility into a fresh, modern business environment, but also introduced new coworking space for the benefit of local freelancers and professionals .

This came at the same time as UBC's partnership with Enterprise Nation, a nationwide small business network that provides support for small and growing firms across the UK.

As Emma Jones, founder of Enterprise Nation noted, "Coworking spaces and business centres are no longer simply a place to put your laptop and buy a nice coffee. Their benefit also lies in the community and the collaboration that might bring."
This is evident in the work that UBC's Brentford team is putting in to curate their business community, in order to build a positive and productive atmosphere to generate success.
The team at The Mille has initiated a monthly programme of events to encourage business owners within the centre to network with each other, along with local entrepreneurs. The team also launched a monthly 'Flexi Friday' event that provides a day of free coworking complete with a short business seminar, providing opportunities for local entrepreneurs and home-based business owners to engage with other people in professional surroundings.
The announcement of Hounslow's Creative Enterprise Zone status is yet another positive result for Brentford, which is already a powerhouse of innovation with many small, specialist digital and media companies alongside large blue-chip firms. Now local creatives have the chance to shine, too.
"It's an exciting time ahead for Hounslow's artists and small businesses who will have the opportunity to flourish thanks to this initiative," commented Hounslow Councillor Sue Hampson.
"As one of just six boroughs to receive this funding, we very much look forward to seeing the creative sector shine in Hounslow, providing more jobs for our talented young people, opportunities for new businesses and room for growth and innovation."

Find out more about UBCUK's Brentford coworking space here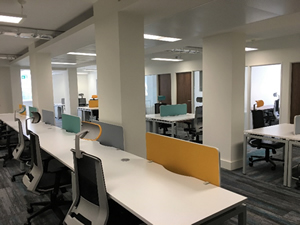 Advertisement
January 8, 2019