Keeping guests on their toes was celebrity lookalike David Brent



The Mille
1000 Great West Road Brentford, West London
0800 169 9822
www.ubcuk.com

On Wednesday 16th May, UBCUK held a re-launch event at The Mille Business Centre in Brentford to celebrate the completion of the first phase of a £1.3 million refurbishment .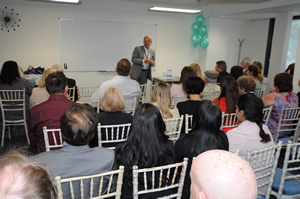 The event was a great success, with over 50 people from the local area joining UBC staff and clients for lunch, networking and entertainment. Special guests included Stephen Fry and Chris Durkin from Hounslow Chamber of Commerce, Kath Richardson from Brentford Chamber of Commerce, and Jennifer Brooke, Executive Director of the Business Centre Association (BCA).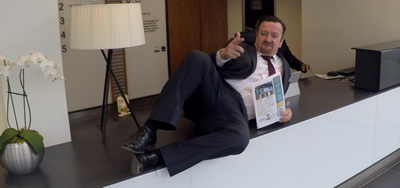 Keeping guests on their toes was celebrity lookalike David Brent, star of 'The Office' television show, who greeted guests on arrival and ensured the famous gags flowed thick and fast.
Attendees enjoyed a glass of bubbly with lunch, before a spot of wine-tasting and the chance to network with other guests, many of whom are local business owners in the Brentford area of West London.
After lunch, 'David Brent' ushered guests into one of the newly refurbished meeting rooms where he treated them to his famous motivational dance (watch the video here), before handing over to Richard Johnson, Managing Director of UBCUK, who formally welcomed attendees and gave a little background on UBC's business centre and the current renovation works.
Stephen Fry was invited to talk about his work with Hounslow Chamber and the Creative Enterprise Zone which is currently undergoing an early-stage feasibility study. He expressed that Brentford sits at the heart of Hounslow's thriving start-up business district and its location provides a vital bridge for businesses of all sizes seeking to grow within Greater London's thriving entrepreneurial setting.
Stephen also discussed the importance of flexible workspace, such as the co-working and serviced offices provided by UBC, in helping businesses to grow once they've advanced from the initial incubation phase.
Stephen Fry, CEO of Hounslow Chamber of Commerce, commented: "The timing here is perfect - the Innovation Centre at UWL will need grow on space that UBC is offering. The start-ups that are desperate for shared work space are in need now, and this resource is at the heart of a business cluster that needs space urgently. UBC is geared up to supply this."
Richard Johnson, Managing Director at UBCUK, commented: "What we're doing at The Mille marks a step-change in UBC's journey. We've always provided good quality flexible workspace backed by excellent customer service to support regional startups and small businesses, and now we're taking things further.
"By making a significant investment in The Mille, we're raising the bar yet again and introducing a high standard of flexible workspace that befits the quality of businesses found here. Brentford is a real hive of entrepreneurial spirit, and we are working hard to create a thriving and supportive business community in our space to assist the ongoing growth of these promising businesses."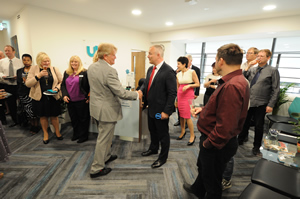 Supporting Business Growth in Brentford
UBC launched its serviced offices over two floors of The Mille in 2012, and has since enjoyed a high occupancy with a healthy mix of startups and SMEs spanning many different business sectors.
Last year, the building landlord McKay Securities took on a full refurbishment of the ground floor reception and common areas and in 2018, UBC announced it had renewed its lease at The Mille for a further 10 years. As part of the lease, UBC took a new floor - Floor 1 - and also agreed a complete refurbishment of its existing 2nd floor.
The renovation and improvement works are set to be completed by August 2018. In total, both UBC and McKay Securities have jointly invested £1.3 million in the project, which incorporates top of the range furniture, high-speed connectivity, contemporary decor and fittings throughout, and the introduction of bespoke co-working space. UBC is also working hard to create a thriving and supportive business community at The Mille in order to facilitate greater collaboration, and support businesses on their ongoing growth journey.
Learn more about UBC's flexible workspace and serviced offices in Brentford here.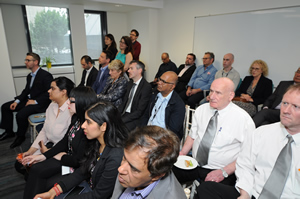 Advertisement
June 1, 2018